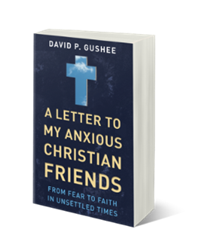 "Our actions and inactions as Christian citizens will be pivotal in affecting the direction that we now go as a nation."
Louisville, Kentucky (PRWEB) August 16, 2016
American Christians are anxious, says ethicist David P. Gushee, about the rapid economic, cultural, and political changes occurring these days, "and we are more scared than we have ever been that if we go to a mall or a movie theater, someone is going to try to kill us."
His book, A Letter to My Anxious Christian Friends: From Fear to Faith in Unsettled Times (Westminster John Knox Press) guides Christians through the flurry of divisive political issues currently at work in the United States that also rest at the forefront of the 2016 presidential elections.
"Ours is a great country, but like any country, it is a living, organic reality that changes over time," Gushee writes. "Some of those changes are constructive, some are dangerous, and some are subject to conflicting interpretations. Our actions and inactions as Christian citizens will be pivotal in affecting the direction that we now go as a nation."
Gushee begins by looking broadly at American culture and its political structure before moving onto more specific issues such as immigration, racism, gun violence, war, sex, and more. He considers what it means to be a Christian—and an American—during this time, and how faith can lead American Christians to a place of hope instead of fear.
"In a context of vicious partisan fighting, I will do my best to offer peaceable, constructive ideas that can make sense to Christians who identify very differently in their politics," Gushee writes. "I hope to inject a note of realistic and empowering hope into a cultural and Christian climate filled with pessimism."
David P. Gushee is Distinguished University Professor of Christian Ethics and Director of the Center for Theology and Public Life at Mercer University. He is the author or editor of twenty books and a regular blogger for Religion News Service. Gushee was recently elected to Vice President of the American Academy of Religion and to President of the Society of Christian Ethics.