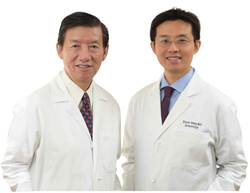 We are honored to be selected by HSN and Good Housekeeping as a semi-finalist for this contest. We are looking forward to share our scientific discovery with the wider audience.
Chatham, New Jersey (PRWEB) August 17, 2016
Dr. Wang Skincare, LLC, developer of novel, non-steroidal skin care products based on powerful traditional Eastern medicines and the rigor of Western science, today announced that co-founders Dr. Steven Wang and Gui Wang have been selected as semi-finalists in the American Dreams Initiative contest launched by the Home Shopping Network (HSN) and Good Housekeeping magazine.
The founders will travel to HSN headquarters on August 31, 2016 to showcase their innovative skincare formulation, Eczema Ointment Natural Repair to executives from both HSN and Good Housekeeping. Finalists selected during the August judging event will be announced in the December issue of Good Housekeeping magazine and will be featured on HSN that same month.
"We are honored to be singled out by these two iconic brands and to hopefully expose our unique skincare formulations to a much wider audience who could greatly benefit from its use," said Dr. Steven Wang, co-founder of Dr. Wang Skincare and renowned dermatologist, surgeon, lecturer, and author. "Since the launch of our product in January of this year, we have received rave reviews from many of our customers who shared their personal stories on how the Eczema Ointment has helped them to regain skin health."
The American Dreams Initiative was created to discover America's next great entrepreneur with a game-changing invention. The contest is designed to cultivate and introduce innovative new products to the marketplace. In this effort, HSN and Good Housekeeping decided to launch this nationwide search to find passionate entrepreneurs who are making a difference with pioneering discoveries.
"We are looking forward to the opportunity of sharing our scientific breakthrough and clinical results with the HSN and Good Housekeeping magazine team," said Gui Wang, co-founder of Dr. Wang Skincare and father of Dr. Wang. "It is gratifying to see that there is an increasing acceptance of using natural and herbal products to promote skin health."
At the conclusion of the American Dreams Initiative contest, HSN and Good Housekeeping will select one entrepreneur to introduce their brand to HSN's 96 million households and in Good Housekeeping magazine, which boasts more than 25 million readers. The winner will also have their product tested in the Good Housekeeping Research Institute for the opportunity to receive the highly sought-after Good Housekeeping Seal for one year. Products that bear the seal are backed by a two-year limited warranty. About 5,000 products have earned the seal since 1909.
About Dr. Wang Skincare, LLC: Dr. Wang Skincare, LLC, is a skincare company based in Chatham, New Jersey. Founded by a father-and-son team, the company formulates novel skin care products by combining the power of Eastern botanicals with the rigor of Western sciences. To learn more about their breakthrough, natural, herbal and non-steroidal products for people with eczema and other skin conditions visit: http://www.drwangskincare.com/
Contact:
Steven Q. Wang, MD
Co-Founder
Email:Wangs01(at)DrWangSkincare(dot)com
134 Candace Lane
Chatham, New Jersey 07928
(888) 968-2347