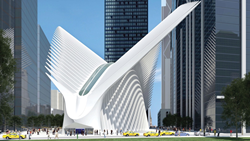 From the stages of Broadway, to the leading recording studios, Sennheiser has a decades-long history of bringing exceptional sound to New York's audio professionals
New York, NY (PRWEB) August 15, 2016
The ultimate sound cannot be explained but must be experienced. Now, audio specialist Sennheiser is inviting listeners in New York to experience sound as never before. As the Technical Partner to Westfield World Trade Center, Sennheiser will be opening the Soundscape, a new flagship showroom located in New York's newest retail location. The iconic German brand will also open a pop-up store in SoHo that, with the showroom, creates two special spaces for the public to listen and enjoy unprecedented sound – with rare opportunities to hear the HE 1, the best headphones in the world, and enter a new dimension with the AMBEO 3D audio technology.
Bringing a new sound to New York City
Officially opening on August 16, the Westfield World Trade Center is located in the Oculus, New York's newest retail destination – an iconic and visually stunning building designed by world-renowned architect Santiago Calatrava. Sennheiser's Soundscape, which will open in the beginning of October, will take inspiration from the Oculus' spirit of exploration and cultural celebration by offering public access to some extraordinary audio products.
"Westfield World Trade Center has been created to be a unique stage for unique experiences. This is precisely our aim with the Soundscape," said Daniel Sennheiser, co-CEO, Sennheiser. "We are excited to invite people to share our vision to shape the future of audio, and want to offer a look beyond technology by creating a stage for sound itself – and the pure excitement of hearing audio in new ways."
German company Sennheiser has delivered audio excellence for over 70 years and its vision to shape the future of audio has been instrumental in advancing the industry worldwide. This history of looking forward has produced milestones such as the legendary HD 414 to the Sennheiser HE 1 and AMBEO 3D Audio today. Numerous patents and awards – including an Emmy, a Grammy, a Scientific and Engineering Award of the Academy of Motion Picture Arts and Sciences, and the Engineering Emmy's® Philo T. Farnsworth Award for special contributions that have significantly impacted television technology and engineering – bear witness to the company's unique innovative drive to create the perfect solutions for its customers. Now, consumers in the US will be able to experience Sennheiser's passion for excellence firsthand.
"From the stages of Broadway, to the leading recording studios, Sennheiser has a decades-long history of bringing exceptional sound to New York's audio professionals," said Dr. Andreas Sennheiser, co-CEO of Sennheiser. "From this fall, we are excited to be taking this authentic passion for sound to the consumers, and it begins here in New York."
Enter the Soundscape
The Soundscape, Sennheiser's Westfield World Trade Center showroom, will bring this dynamic journey to life. Several themed zones will immerse the listener in different aspects of the audio experience, allowing them to explore and listen to a range of products and innovations. Foremost amongst these is the iconic HE 1 – Sennheiser's new electrostatic reference headphone system and successor to the legendary Orpheus. A range of other premium models will also be on display, including the brand new PXC 550 travel headphones, the HD 1 Wireless, headphones with MOMENTUM, the HD 630 VB and the audiophile HD 800 S and IE 800. In addition to its consumer products, Sennheiser's innovative conferencing solutions including TeamConnect Wireless will also be shown, revealing how high quality audio is able to transform business. Alongside this unique showcase, Sennheiser will also be hosting events at the Soundscape to bring people closer to sound in exciting new ways.
With its new pop-up store on Prince Street, in the heart of New York's SoHo district, Sennheiser will offer an additional destination to experience the ultimate sound. The store will also open in October 2016 and will feature a range of product showcases and special events.
For more information about Sennheiser visit:
http://www.sennheiser.com/
A journey into sound
The audio specialist is also planning a series of special HE 1 Listening Experiences in selected U.S. and Canadian locations, starting in Chicago on September 27th and continuing on to other cities such as Los Angeles, San Francisco, Seattle, Vancouver and Toronto. The listening events that will take place through the second half of 2016 will provide visitors with a calm and relaxed atmosphere to experience the unique sound of the HE 1.
As Official Audio Partner to Art Basel in Miami Beach in December, Sennheiser will be bringing its innovations to one of the art world's foremost North American events: The Future Sound Cube, a unique space for audio-visual artworks. Here, Sennheiser will offer visitors to Art Basel the opportunity to listen to the HE 1 and to experience a new dimension in sound with AMBEO - Sennheiser's groundbreaking 3D immersive audio technology. AMBEO enables a completely new listening experience, in which the listener feels entirely immersed in sound. In addition, Sennheiser will present a new work by visionary artist Nik Nowak as part of its Future Audio Artist program – an initiative that was launched at Art Basel in Hong Kong in March 2016 to support young sound artists.
About Westfield World Trade Center
The new port of entry to Lower Manhattan, Westfield World Trade Center is located at the site where 60,000 neighborhood residents, 300,000 daily commuters, 13 subway / PATH trains, multiple ferry lines, and an additional 15 million annual global travelers converge within one landmark setting. This new New York City experience brings together commerce, community and culture in a destination integrating the Santiago Calatrava designed Oculus, street-level space in WTC Towers 3 and 4, as well as the galleries that run underground across the World Trade Center campus (including to 1 WTC, now the tallest building in the Western Hemisphere). Encompassing more than 100 fashion, beauty, lifestyle and technology brands across 365,000 square feet of retail space, Westfield World Trade Center is home to one of the most diverse retail collections in New York City, restaurant concepts created by world-class chefs, art, culture, events and entertainment, as well as showrooms, sponsorships, and engaging media activations for premier partners such as Ford, Pepsi, JP Morgan Chase and Sennheiser.
About Sennheiser
Audio specialist Sennheiser based in Wedemark near Hanover is one the world's leading producers of headphones, microphones and wireless transmission technology with its own plants in Germany, Ireland and the US. Sennheiser operates in more than 50 countries. Together with 19 subsidiaries and long-standing trading partners, the company sells innovative products and future-oriented audio solutions which are optimally tailored to customers' needs. This enthusiasm for audio technology is shared by some 2,750 employees worldwide who work for the family-run company, which was established in 1945. Daniel Sennheiser and Dr. Andreas Sennheiser took the helm in 2013 and are the third generation to manage the company. In 2015, the Sennheiser Group's turnover totaled €682 million. http://www.sennheiser.com