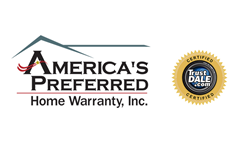 This distinction will help savvy consumers around the country make a wise decision based on facts.
Jackson, Michigan (PRWEB) August 17, 2016
America's Preferred Home Warranty, Inc. (APHW) is pleased to announce the completion of a successful business certification process with nationally recognized consumer investigator Dale Cardwell of TrustDALE.com.
"We're excited to receive this important certification, which is an endorsement of our unique home warranty process," said Rodney Martin, CEO of America's Preferred Home Warranty. "This distinction will help savvy consumers around the country make a wise decision based on facts from an impartial and unbiased source."
"At TrustDALE, we empower consumers with researched solutions for their toughest buying decisions," said Dale Cardwell, CEO and President of TrustDALE.com. "I'm very pleased to welcome America's Preferred Home Warranty to our elite group of certified and recommended businesses. Consumers can place their confidence in them as being an excellent company that has met and exceeded the conditions of our robust certification process."
A long-time CBS-TV news reporter turned consumer advocate, Dale Cardwell began TrustDALE to help consumers cut through the clutter to find companies with integrity. The TrustDALE certification process requires interviews with company leadership, and a seven-point investigative review of the following business components:
1. Price: Company must price competitively, unless there is a significant difference in product quality, and must honor price it advertises.
2. Verified Reputation & Customer Service: Company is continually and systematically reviewed for delivery of excellent customer service. This is achieved by follow up surveys of customers.
3. What Would Cardwell Do: A proven standard of fairness developed through thousands of real-world problem-solving consumer experiences, creating the basis for whether Dale would choose to personally do business with a company.
4. Governor's Office of Consumer Affairs, Consumer Publications, FTC: Company is reviewed through the pertinent agencies and publications.
5. Licensing, Professional Certification, Insurance and Bonding: Company is reviewed for proper professional credentialing.
6. Lawsuit Search and Review: Company's litigation history is completed to assure no history of unprofessional or illegal business practices.
7. Make It Right Guarantee: Company agrees to accept and abide by TrustDALE's guarantee, including: extraordinary customer service and support.
America's Preferred Home Warranty is highlighted on TrustDALE.com at http://www.trustdale.com/business/americas-preferred-home-warranty.
About America's Preferred Home Warranty
America's Preferred Home Warranty (APHW) is a Christian-based company founded in 1999 and headquartered in Jackson, Michigan. They offer home warranty services in 29 states across the country. Their warranty is a service agreement between a homeowner and APHW that pays toward repair or replacement of covered appliances and home systems that malfunction under normal conditions of use. Their key differential is that they allow the homeowner to choose their own contractor for covered repairs. Their vision is: "To maximize customer value through innovation and the use of technology." For further information please call 1-800-648-5006 or visit http://www.APHW.com.
About TrustDALE
TrustDALE is a consumer advocacy, business review, and referral company. Headquartered in Atlanta, Georgia, TrustDALE is led by six-time, Emmy Award-winning, Consumer Investigator, Dale Cardwell. The company's mission is empowering consumers with researched solutions and the recommendation of top-performing companies. TrustDALE's multi-media platform includes TrustDALE.com, TrustDALE TV, and TrustDALE Radio. More information about the company can be found at http://www.TrustDALE.com.