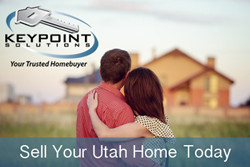 Farmington, Utah (PRWEB) August 17, 2016
Farmington based Keypoint Solutions is quickly approaching a huge milestone by purchasing their 60th home from Utah sellers this year, making them one of the top buyers in the state.
With an A+ rating from the Better Business Bureau (BBB), Keypoint Solutions has quickly become a trusted source over the years with Utah based home sellers looking for a fast solution. With a reputation for fast closes and contingency free offers, Keypoint Solutions is quickly on their way to the top of the real estate market in Utah. While their website sellmyutahhousefast.com shares many local testimonials, several Utah home sellers are learning about Keypoint Solutions through word of mouth.
While they specialize in sellers who are facing foreclosure or who are underwater on their home, Keypoint Solutions has also worked with people in all kinds of situations finding a way to provide a mutually beneficial agreement. During foreclosure many sellers struggle to make their home marketable and to pass inspection, but when selling to Keypoint Solutions these items are no longer an issue. Keypoint Solutions offers a quick and easy process for their sellers. Selling to Keypoint Solutions is as simple as making an inquiry to their office, having one of their staff do a site visit, accepting their offer, and then closing in as little as 48 hours, depending on the seller's situation. By purchasing with all cash, Keypoint Solutions allows sellers to choose their closing date to whatever suits their personal schedule.
For those not able to bring cash to the closing table or having trouble evicting tenants, Keypoint Solutions offers highly customized solutions for these situations. They can structure purchase agreements with clauses devoted to solving these and other problems.
One of many making these magnificent deals happen is Keypoint Solutions' Jason Murphy, who discusses the impact they've been making in the Utah market.
"We've been helping a lot of people in Utah this year by buying their homes. We've been working in Utah for over a decade but this year has been especially productive. Once the community knows they can trust us with one of their largest personal investments we can get to work and provide them with a real home selling solution."
While many people looking to do a standard sale may not consider real estate investors who buy homes in bulk, the final amount of cash-in-pocket to the seller is often very similar to a traditional sale.
All the fees associated with selling a home quickly become thousands of dollars. Between photography fees, cleaning fees, inspectors, repairs, buyer requested closing costs, realtor fees, and many others the money a seller receives from a standard home sale dramatically drops. On top of all this, sellers are also responsible for paying the commission of brokers on both sides of the deal, sometimes as high as 8%. Another huge expense is paying the mortgage on a home not only while its on the market, but also for as long as the buyer needs to wait to close. By selling to Keypoint Solutions, sellers can save tens of thousands of dollars on all these fees. Those seeking to sell their home in Utah can find more information at their website http://sellmyutahhousefast.com.