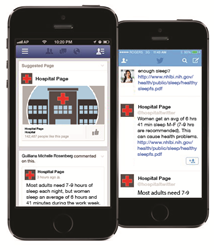 Engaging content can be a challenge for any hospital marketing department.
Boston (PRWEB) August 16, 2016
When looking for health information, 72% of adult internet users have searched online, according to the Pew Research Center's most recent national study on healthcare and social media.
What resonates with them? More than 40% of consumers say that information found via social media affects the way they deal with their health.
"With patients increasingly turning to social media for health information, it's more important than ever for hospitals and doctors to engage them in that online arena with health information they can trust," said Betsy Weaver, Ed.D., CEO and President of UbiCare. "Otherwise, healthcare providers risk having their patients find health information and advice online from unreliable sources."
Social media offers hospitals the opportunity to impact health outcomes on a large scale. By sharing original content, hospitals start and guide the online health conversation with their patients, improving patient education, satisfaction and connection to their hospital at the same time.
To help hospitals produce the health content they need to engage patients online, UbiCare this week launched 360well: Trusted Health Content for Social Media. 360well is a plentiful source of physician-vetted wellness content for social media, connecting hospitals to their patients—wherever they are.
360well helps proactively improve the health of a hospital's patient population. The solution features multiple series of evidence-based content formatted to share on social media channels. Health topics include diabetes, smoking cessation, women's health, obesity, heart health and much more.
"Content, and engaging content, can be a challenge for any hospital marketing department given limited resources and time to research and write health-related articles," said Christopher Smalley, Director, Marketing & Communications at Beth Israel Deaconess Hospital-Plymouth. "At BID-Plymouth, we've found UbiCare's 360well to be a good solution to providing our patients with information they can use to become more educated about their own healthcare and to engage with clinicians when they come to the hospital for care."
Weaver added, "360well provides hospitals with an efficient way to ensure that their patients are getting the guidance and advice they need to stay well."
For more information on 360well, visit http://www.ubicare.com/social-media.
###
About UbiCare
UbiCare provides total engagement solutions enabling hospitals to be at the forefront of patient-centered innovation and value-based care through targeted education, mobile connections and real time data.