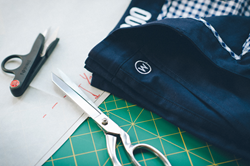 "With transparent pricing, silver threading, Odor, Liquid and Stain Resistant fabric and a lifetime quality guarantee we intend to redefine what quality means."
(PRWEB) August 16, 2016
Under Embargo Until: September 1st, 2016
Thursday, September 1st, 2016 Wonderous will go live with a Kickstarter campaign for its Forever O.G. Pants. The company has invented the world's first odor, liquid and stain resistant chino pants backed by a lifetime size and quality guarantee. The company's goals are to raise $20,000 for its first production run.
"Our inspiration for The Forever O.G. Pants was simple. We saw how cheap pants don't last and how expensive pants don't fit for long." asserted, Jeff Chang, Founder, Wonderous. "With our lifetime size exchange program you never have to worry about size again. Just exchange out your pair for a pair that fits. With transparent pricing, silver threading, Odor, Liquid and Stain Resistant fabric and a lifetime quality guarantee we intend to redefine what quality means."
Wonderous prides itself on being manufactured in New York, with buttons from San Francisco, and custom fabric from Los Angeles. For decades, the company feels that fashion giants have trained consumers to accept inferior products, they plan to change all that by providing superior quality fit, at an affordable price.
Backed by 2 years of R&D and 12 rounds of prototypes, each pair of The Forever O.G. Pants outperforms all existing clothing standards by featuring; silver infused extremely flexible fabric, premium embroidery, a heavy duty YKK zipper, ultra strong 3-ply 4 way stretch twill, Italian gingham lining, tucked belt loops, extra strong inseam, a reinforced double crotch, and is made from odor, liquid and stain resistant fabric boasting state of the art liquid repellant nanotechnology. The pants come in a Classic Fit or Tailor Slim Fit and the company expects to ship in time for Christmas 2016.
About:
Wonderous is disrupting the global clothing industry with our revolutionary lifetime size and quality guaranteed Forever O.G. Pants that are Odor, Liquid and Stain resistant. We have a fully transparent pricing policy that everyone can inspect and our clothes are always Made in America. Support our Kickstarter to disrupt the clothing industry and make a real difference, today.
Our Kickstarter: http://wond.us/1KmYZwi
Website: https://wonderous.com/
Press Kit: http://wond.us/1U9092f
Our Social Media communities:
https://www.instagram.com/gowonderous/
https://www.facebook.com/goWonderous
https://twitter.com/goWonderous
Media Contact:
Jeff Chang, Founder, Wonderous
Email: Jeff(at)wonderous(dot)com
Tel: (713) 876 - 5094