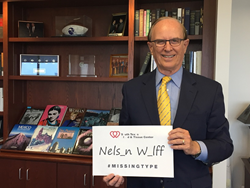 San Antonio, Texas (PRWEB) August 16, 2016
The South Texas Blood & Tissue Center, in an effort to emphasize the need for donors across the region, is joining with centers in 22 countries this week in the "Missing Type" campaign.
STBTC is working with local and regional organizations on the effort. They have been removing the letters A, O and B from their names, raising awareness of the need for new blood donors with all blood types.
San Antonio Mayor Ivy Taylor, Bexar County Judge Nelson Wolff, San Antonio Police Chief William McManus, Bexar County Sheriff Susan Pamerleau and San Antonio Chamber of Commerce President and CEO Richard Perez have joined the effort on social media.
In the United States, major participants include the New York Stock Exchange, Route 66, Westinghouse Electric and Fandango, along with the Minnesota Twins and Cincinnati Reds. In South Texas, STBTC is participating in the campaign on its social media channels using #MissingType. A video of the process of changing signs for STBTC and parent company BioBridge Global was posted on the organization's YouTube channel.
The idea is based on the concept that people rarely think about their blood type – most of us don't even know it. But if that "type" were to go missing in everyday life, people would start to pay closer attention to the problem. So the letters A, O and B (the letters that make up the blood groups) were removed in places of high interest on a national scale.
Blood donations have declined 21 percent in South Texas in the last four years, and nationally, donations are at their lowest levels in more than 30 years. But even as collections have declined, the need has not – three blood transfusions are given every second around the world, and there are more than 11 million transfusions every year in the United States alone.
In South Texas, 16-year-olds can give blood if they weigh 120 pounds and have parental permission. Beginning at age 17, no permission is required. There is no upper age limit. The typical whole blood donation takes about an hour. Donors also can choose to donate just platelets or just red blood cells; those donations typically take from 90-120 minutes.
There are a number of ways the public can support the Missing Type campaign:

Make an appointment to give blood at SouthTexasBlood.org/Give-now
Support the Missing Type campaign on social media by posting about blood donation and removing the As, Os and Bs from social media names and by using the hashtag #MissingType
Temporarily remove As, Bs and Os from signs and websites
The Missing Type campaign was campaign was created in 2015 by NHS Blood and Transplant in England and North Wales for National Blood Week. It reached more than 2 billion people through news coverage and social media activity, and ultimately drove 30,000 new donors to register.
More information is available at the website of Americas Blood Centers.
About the South Texas Blood & Tissue Center: The South Texas Blood & Tissue Center (STBTC) is a nonprofit community blood center providing blood, plasma, platelets and other blood components to hospitals across 43 South Texas counties. STBTC has seven donor rooms in South Texas and conducts more than 2,000 mobile blood drives every year. For more information, visit SouthTexasBlood.org.