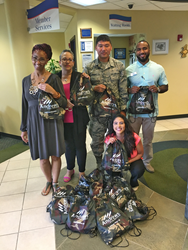 Suitland, MD (PRWEB) August 17, 2016
Andrews Federal Credit Union recently teamed up with Joint Base McGuire-Dix-Lakehurst (JBMDL) to provide backpacks with school supplies for the children that attend the Veterans Memorial Family School located in Camden, NJ. Additionally, the Joint Base hosted an entire week of for all of the youth in attendance.
"With the new school year approaching, we are glad to be able to contribute to the success of the students at this amazing school," said Maree Duncker, New Jersey Regional Manager. "These are our future leaders. We're proud to play a part in helping them achieve their future success."
About Veterans Memorial Family School
The Veterans Memorial Family School exists to serve the unique academic, physical, social, and emotional needs of students who are in a special and critical period of their lives as they change from childhood to adolescence. The staff of Veterans Memorial Family School is committed to creating and maintaining an orderly, trusting, and caring environment where teaching and learning are exciting and students are assisted as they develop responsibility.
About Andrews Federal Credit Union
Andrews Federal Credit Union was founded in 1948 to serve the needs of military and civilian personnel by providing a vast array of financial products and services. With over $1 billion in assets, Andrews Federal has grown to serve more than 116,000 members in the District of Columbia, Springfield (VA), Joint Base Andrews (MD), Joint Base McGuire-Dix-Lakehurst (NJ), and military installations in central Germany, Belgium, and the Netherlands. In addition, the Credit Union serves as a financial partner with many select employee groups in Maryland, the District of Columbia, and New Jersey.
To learn more about Andrews Federal Credit Union and its community involvement, or to become a member, call 800.487.5500 or visit http://www.andrewsfcu.org.