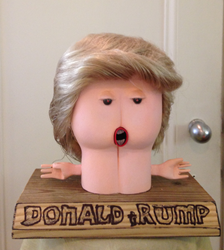 "Art, more than any other medium, can make sense of the unexplainable," says Julius Scissor. "Donald Trump is an entertainer. He's conning America. I am doing what I can with art to satirically combat his use of cynical comedy."
Philadelphia, PA (PRWEB) August 16, 2016
Renowned hair stylist and salon owner "Julius Scissor" is using art to highlight the absurdity of the election cycle. The primary target of his ire: the highly controversial Donald Trump.
Julius Scissor has been operating his iconic hair salon on Locust Street in Philadelphia, for more than 30 years, often mixing his passion for hair with art. This year, he has unveiled a series of multimedia art to address and represent voters' anxiety over the 2016 Presidential election.
"Art, more than any other medium, can make sense of the unexplainable," says Julius Scissor. "Donald Trump is an entertainer. He's conning America. I am doing what I can with art to satirically combat his use of cynical comedy." He has created "Donald tRump," a three-dimensional sculpture using real hair that has been cut from his clients' heads, and attached realistically, over a compressed Styrofoam mold of Trump's head, acting as a metaphor for Trump's bizarre and continuous political positions and ignorance, behavior and commentary.
Long the professional as well as provocateur, Julius Scissor has used his art to stoke political debate in the past. In 1980, he created, "Ronald Raygun," a sculpture that brought to attention President Reagan's celebrity, as well as his politics. The artwork attracted national media attention, as well as a surprise visit from the FBI. He said of his brush with notoriety, "I was simply expressing my view of Reagan's curious and unusual hair through my lens as a creative hair stylist." He has continued to produce works of political art for other past elections, including George Herbert Walker Bush and Barack Obama.
With a nod to Pablo Picasso, Julius Scissor has unveiled a new creation for this controversial election year. "Crooked Hillary" (Forged in The Art of Politics) is a painting inspired by Picasso artistically communicating the many attacks Clinton has endured throughout her years in the political spotlight. "I felt that she is so unfairly maligned that I wanted to create a piece that spoke to how fragmented one can become from so many attacks," says Julius Scissor.
The full series of political paintings and sculptures can be viewed here.
For more information about Julius Scissor and his art, or to arrange an interview, contact his studio: (215) 567-7222.
###