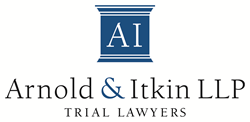 Houston, TX (PRWEB) August 15, 2016
At Arnold & Itkin, their attorneys are renowned for their work in the field of personal injury—particularly in maritime law. The firm is pleased to announce that Attorneys Kurt Arnold, Cory Itkin, and Caj Boatright have been selected to Best Lawyers in America® this year for their practice of Admiralty & Maritime Law.
Best Lawyers® is a peer-reviewed list of the most renowned attorneys in a variety of practice areas. Lawyers are nominated by their peers, and current attorneys who have been selected for the Best Lawyers® list provide honest feedback of the attorney's legal skill, history of results, and professional ethics. The resulting list is a roster of the most trustworthy and highly-skilled attorneys in a given region and area of practice.
This year Caj Boatright is a first-time recipient of the Best Lawyers® honor, which is published by U.S. News on an annual basis. Attorneys Kurt Arnold and Cory Itkin have been included on the list before, achieving recognition nationwide for their work in personal injury, maritime law, and other areas of plaintiff's advocacy.
The team at Arnold & Itkin is honored by the inclusion of their attorneys on the list and will continue to serve plaintiffs injured offshore or in maritime industries throughout the nation.
###
Arnold & Itkin is a personal injury and maritime firm based in Houston, TX. Their work has taken them all over the U.S., allowing them to represent a wide variety of clients injured by negligence. Their results are often record-setting, with over $1 billion won for clients in the last 5 years. Recent victories include a $70 million verdict against Johnson & Johnson regarding the drug Risperdal. Above all, their passion is ensuring their clients receive the financial support and medical care they need. Visit their site today: http://www.offshoreinjuryfirm.com.