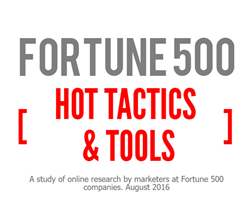 This study, based on Intent Signal™ intelligence illustrates a powerful new capability available to B2B marketers
WASHINGTON (PRWEB) August 16, 2016
True Influence has published findings from a new study in which pertinent marketing data of Fortune 500 companies were analysed to assess the terms and signals that garnered the most interest. An article on the study and its findings can be read here: Fortune 500 Hot Tactics & Tools
Results from the 30-day look into the online research of Fortune 500 marketers revealed a strong interest increase in email related marketing keywords, marketing tools and online video marketing. The study focused on three key variables: the first, which marketing terms had surged the most in popularity. The second; identified online research specific to Fortune 500 companies. The third; looked at a specific 30-day period compared to a benchmark. True Influence executed the study with use of its flagship data-as a-service tool, InsightBASE.
Brian Giese, CEO of True Influence, announced the publication of the study in the following statement: "True Influence is delighted to announce the publication of our new report revealing the marketing tactics and tools in which Fortune 500 companies are currently showing the greatest increase in interest."
Speaking to the nature of the data in the study and its overall findings, the statement continued, "This study, based on Intent Signal™ intelligence illustrates a powerful new capability available to B2B marketers – seeing when a given prospect company has begun the online research that precedes a purchase."
He continued, "We used data aggregated through InsightBASE to monitor online digital activities of everyone within each of the Fortune 500 companies – actual web pages visited, white papers downloaded, webinars registered for, etc. InsightBASE processes over 250 million such Intent Signals each day to identify changing levels of interest and then provides full contact information for the relevant individuals within each of the companies that are showing increased intent signal activity."
About the study
The True Influence study compared intent signal information for the period July 1, 2016 to August 1, 2016 against a historical baseline of information spanning the past two years. The purpose was to identify those marketing-related terms showing the greatest interest in online activity over the past 30 days within each of the Fortune 500 companies.
True Influence will be continuing its observations regarding new data point topics versus tried-and-true indicators, and plans to release a new comparative study on these variables.
InsightBASE is a Data-as-a-Service (DaaS) platform that monitors the activity of millions of companies across the web and intelligently links interests with prospects.
It operates by providing full contact data of key personnel in an email alert whenever a target account shows signal interest in their product, so that marketers can perform direct B2B outreach when interest levels are at their peak.
Click here to learn more about technology at True Influence, or its analytics.