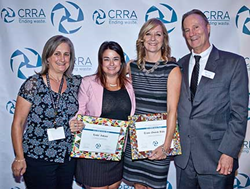 LONG BEACH, Calif. (PRWEB) August 17, 2016
SCS Engineers, an environmental consulting and contracting company is pleased to announce that two SCS Professionals Tracie Onstad Bills and Leslie Lukacs were recently honored with California Resource Recovery Association's (CRRA) Service Awards. Ms. Bill and Ms. Lukacs, selected by the CRRA Board of Directors to be the 2016 recipients earlier this year, received their awards at the organization's Annual Conference Awards Ceremony on August 9 in Sacramento, California.
According to CRRA Executive Director, John H. Dane, the award recognizes "exceptional individual service to the organization and a contribution of time or resources beyond expectations."
Tracie Onstad Bills, SCS's Sustainable Materials Management Director for Northern California, has been on the CRRA board for ten years and has served in several leadership positions within the organization, including as its President for three years. Her expertise revolves around commercial recycling technical assistance, environmental purchasing, large venue and event zero waste programs, research and sustainability planning, garbage hauler franchise compliance and review, construction and demolition program / ordinance analysis and writing, climate inventory compilation, research and feasibility studies to help SCS clients with comprehensive waste prevention and zero waste programs.
Leslie Lukacs, SCS's Sustainable Materials Management Specialist, has been on the CRRA board for 12 years serving in a variety of leadership positions. Ms. Lukacs founded CRRA's Green Initiatives for Venues and Events technical council and was an instructor for CRRA's Resource Management Certification Program for five years. She specializes in the design and implementation of sustainable materials management and zero waste programs and is a pioneer in the greening of venues and events throughout the nation. Ms. Lukacs extensive expertise in the logistics of zero waste, recycling, and composting programs, such as outreach management, business assistance, master planning, waste audits and characterization studies, extended producer responsibility ordinance preparation and implementation, compliance, grant writing, and administration are all key to successful long-term programs.
CRRA is California's statewide recycling association. It is the oldest, and one of the largest non-profit recycling organizations in the U.S. CRRA is dedicated to achieving environmental sustainability in and beyond California through Zero Waste strategies including product stewardship, waste prevention, reuse, recycling and composting. The organization provides its members with resources to advance local, regional and statewide waste reduction efforts which result in critical environmental and climate protection outcomes. Members represent all aspects of California's reduce-reuse-recycle-compost economy and work for cities, counties, municipal districts, and businesses as well as hauling companies, material processors, non-profit organizations, state agencies, and allied professionals.
About SCS Engineers
SCS Engineers' environmental solutions are a direct result of our experience and dedication to solid waste management and other industries responsible for safeguarding the environment. For more information about SCS, please visit our website at http://www.scsengineers.com, contact service(at)scsengineers(dot)com, or follow us on LinkedIn, Facebook, or Twitter.