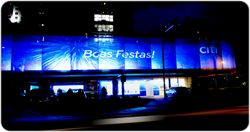 Considering a project of such magnitude, we needed the best partners...
São Paulo, Brazil (PRWEB) August 18, 2016
Christie®, a leader in creating and delivering the world's best visual and audio experiences, is pleased to announce that Citibank's flagship branch Nova Faria Lima in São Paulo (Brazil) has installed 19 Christie GS Series laser phosphor projectors to create a 250 square meters permanent projection in its glass façade, which is the biggest rear-projection mapping in Latin America. The installation has been carried out by Founders, a Brazilian company that is part of the JChebly group, focused on innovation for its clients that covers digital marketing, digital experiences, visual solutions and content.
The impressive office, located in the influential and iconic area of Faria Lima Avenue in São Paulo, is one of Citibank's most advanced and innovative branch outlets in the world. To celebrate the bank's 100th anniversary in Brazil, Founders was given the mission to turn this branch into a digital landmark in the heart of the city.
One of the biggest cities in the world, São Paulo banned all billboards in 2007 to fight what it saw as the growing problem of "visual pollution." As a result, Citibank, Founders and Christie came up with an innovation-driven project to produce a new billboard concept approved by the Clean City Law, making it the only billboard in town.
Leonardo Chebly, CEO of Founders, in speaking about the installation said, "When we received the assignment to turn the branch into a digital landmark, we analyzed the branch´s architecture and developed specific solutions that use the front and sideward glass façade to create a digital billboard."
He added that, "Considering a project of such magnitude, we needed the best partners to carry out the installation with a high focus on quality and safety. Therefore we chose Christie, due to its more than 80 years of experience in movie projection and 25 in the development of digital projection, along with its known quality standards."
The installation was the result of solid teamwork involving several technicians from Founders and Christie, including André Nuvens Ingnez and Daniel Monteiro Pereira, Channel Sales Manager and Sales Manager Business Products respectively for Christie Brazil.
The 19 Christie DWX555-GS laser phosphor projectors with 1DLP® technology were installed at the façade of the office in a rear-projection set-up, producing an impressive 100,000 lumen projection mapping over the glass façade and the laterals of the office, covering an area of 250 square meters. The 24/7 projection is a permanent source of information, entertainment and culture where media artists, poets and designers are invited to create unique digital contents stating their views, opinions and love for São Paulo. In doing so it has emerged as a powerful platform that connects the city and its citizens.
"We needed very powerful projectors to offer the best quality image, and that's why Christie DWX555-GS projectors served us perfectly," explained Chebly. Featuring laser phosphor illumination and equipped with 1280 x 800 WXGA resolution, the Christie DWX555-GS eliminates the need for lamp and filter replacements, providing 5,400 ANSI lumens and 20,000 hours of low-cost operation with a small footprint, low-weight, quiet operation and a full suite of lenses.
Clayton Brito, Christie's Country Manager in Brazil, commented, "We are very pleased that our GS Series laser phosphor projectors were selected for use in Citibank's flagship branch in São Paulo from the hand of our valued partner Founders. Christie is well-positioned to deliver high quality and reliable lampless projectors that deliver long-lasting brightness, accurate color reproduction, image quality and 24/7 reliability."
Chebly concluded, "We are thrilled with this project, which has become a unique attraction in São Paulo, and the partnership with Christie was a key point for us. From the moment of pre installation until after installation, Christie's team was present to ensure that the entire project would be a success."
About Christie®
Christie Digital Systems USA, Inc. is a global visual technologies company and is a wholly-owned subsidiary of Ushio Inc., Japan, (JP:6925). Consistently setting the standards by being the first to market some of the world's most advanced projectors and complete system displays, Christie is recognized as one of the most innovative visual technology companies in the world. From retail displays to Hollywood, mission critical command centers to classrooms and training simulators, Christie display solutions and projectors capture the attention of audiences around the world with dynamic and stunning images. Visit http://www.christiedigital.com for more information.
"Christie" is a trademark of Christie Digital Systems USA, Inc., registered in the United States of America and certain other countries.
DLP® is a registered trademark of Texas Instruments.