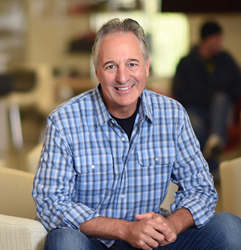 Irvine, CA (PRWEB) August 16, 2016
Underscoring what has been an enormously successful year for mobile games company MobilityWare, its top executive Jeff Erle has been named a finalist for "Outstanding Technology CEO" for the upcoming 23rd annual OC Tech Alliance High-Tech Innovation awards. This nomination comes on the heels of a string of recent accolades for Mr. Erle and the company as he was also named a finalist for the prestigious "EY Entrepreneur of the Year" in his region, and the company was tabbed as 'One of the Best Places to Work in the OC' by the OC Business Journal for the second consecutive year.
Since taking over the helm as CEO in early 2015, Mr. Erle has been a transformative leader whose adaptation and application of new technologies has helped drive the company's revenue growth and product diversification, and establish it as a premier player in the global mobile gaming sector. Throughout the process, Erle has maintained MobilityWare's trademark "positive culture" which has led to some of the industry's highest employee retention rates.
Now in its 23rd year, the High-Tech Innovation Awards is Southern California's premier awards program event celebrating achievement among the regional tech industry. The OC Tech Alliance honors local companies, leaders and technology products that make Orange County a technology hub. Interested parties can meet the award finalists at a special event tomorrow night August 17, 2016 from 6-8 PM at the Sky Garden in Irvine, CA. The winners will be announced at a gala dinner on October 6, 2016, at the Westin South Coast Plaza.
About MobilityWare, Inc.
Founded in 1990 and headquartered in Irvine, CA, MobilityWare is a leading mobile games company with over 300 million downloads across its award-winning portfolio. Its flagship game, Solitaire, was released on the day the App Store opened in 2008. Other titles include Hot Streak Slots, Blackjack, Freecell, and Spider Solitaire. In 2015, the company expanded its product line onto emerging platforms such as Apple Watch and Apple TV. More information about the company can be found online at MobilityWare.com.
About Orange County Technology Alliance
The Orange County Technology Alliance (OC Tech Alliance) is a 501(c)6 nonprofit trade association committed to fast-forwarding the local innovation economy. It is the successor organization to the Orange County Council of TechAmerica and AeA. It is the only technology association addressing the needs of small-to-midsize technology companies and their leaders based in Orange County, Calif. The alliance serves members through local networking, professional development, state and federal advocacy, savings on business services and industry recognition. To learn more about membership, contact OC Tech Alliance octech(at)octechalliance(dot)com or octechalliance.com.