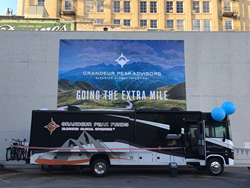 We are passionate about our culture and see this as a way to accomplish our investment research goals while building our collaborative team.
Salt Lake City, UT (PRWEB) August 16, 2016
Grandeur Peak Global Advisors, a boutique micro to mid-cap global equities investment firm located in Salt Lake City, Utah, embarked this week on "West Coast Tour 2016" in an RV. The Grandeur Peak team has divided into five teams, with each team taking a one-week leg of the journey from Canada to Mexico, including stops all along the west coast of the United States. The teams will be meeting with current portfolio companies and prospective investments, connecting with clients, and enjoying a unique team building experience aboard a 37' recreational vehicle.
Grandeur Peak Global Advisors recently celebrated its five-year anniversary. The firm was founded by Robert Gardiner, Blake Walker and Eric Huefner with the goal of becoming the preeminent global, small cap investment firm. The research team scours the globe in search of small best-in-class growth companies that are still growing quickly and lesser known. The process involves screening over 30,000 companies and then diving in with fundamental, hands-on research of the most interesting companies.
For a firm that has a unique way of looking at the world, this event is no surprise. In speaking of the RV trip, Eric Huefner, President said: "This trip is Robert's brainchild based on an experience shared by one of our interns. The trip has actually been a couple of years in the planning. Visiting companies and talking with management teams is a key component of our research process. Driving an RV thousands of miles is one more way to get close to the companies and the people that are at the heart of what we do as a firm."
According to Robert Gardiner, CEO, the trip was designed with specific goals in mind: "rigorous company due diligence, strengthening relationships with clients and building our team culture, while experiencing the beauty of the land along the way. We are passionate about our culture and see this as a way to accomplish our investment research goals while building our collaborative team. We're also including a service component on each leg because giving back to our global community is another important element of our firm's culture."
For more information on the West Coast Tour 2016 RV Trip, please visit http://www.grandeurpeakglobal.com for updates.
About Grandeur Peak Global Advisors:
Grandeur Peak Global Advisors is comprised of a highly seasoned and collaborative research team taking a bottom-up approach to investing using disciplined global screening, rigorous company due diligence, and close attention to valuation to find what we believe to be the best investment opportunities around the world. Our bias is towards micro to mid-cap companies because we believe we can find faster growth among these firms, and often at better valuations due to the lack of analyst coverage. Grandeur Peak Global Advisors, LLC is an employee-owned investment adviser headquartered in Salt Lake City, Utah and registered with the Securities and Exchange Commission under the Investment Advisers Act of 1940.
The objective of all the Grandeur Peak Funds is long-term growth of capital. The Global Stalwarts Fund, the International Stalwarts Fund, and the Global Micro Cap Fund are new and have limited operating history.
RISKS:
Mutual fund investing involves risks and loss of principal is possible. Diversification does not eliminate the risk of experiencing investment loss. Investing in small-cap funds will be more volatile and loss of principal could be greater than investing in large cap or more diversified funds.
Investing in foreign securities entails special risks, such as currency fluctuations and political uncertainties, which are described in more detail in the prospectus. Investments in emerging markets are subject to the same risks as other foreign securities and may be subject to greater risks than investments in foreign countries with more established economies and securities markets.
An investor should consider investment objectives, risks, charges, and expenses carefully before investing. To obtain a prospectus, containing this and other information, visit http://www.grandeurpeakglobal.com or call 1-855-377-PEAK (7325). Please read it carefully before investing.
Grandeur Peak Funds will deduct a 2.00% redemption proceeds fee on Fund shares held 60 days or less. For more complete information including charges, risks and expenses, read the prospectus carefully.
CFA is a trademark owned by the CFA Institute.
Grandeur Peak Funds are distributed by ALPS Distributors, Inc ("ADI"). Eric Huefner is a registered representative of ADI.
GPG000502 8/31/2017