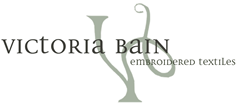 The addition of embroideries to the luxury items we offer is a great opportunity for those clients looking for a bespoke design element.
Los Angeles, California (PRWEB) August 17, 2016
J. Robert Scott, Inc. the internationally known luxury furniture and textile manufacturer announces representation of artisanal British manufacturer Victoria Bain Embroidered Textiles in their company owned showrooms in the United States and United Kingdom.
J. Robert Scott is proud to introduce Victoria Bain Embroidered Textiles in their showrooms in the US and UK. This partnership will provide a totally customizable option to clients wishing to embellish or personalize the textiles in their interior environments.
Since 1994, under the direction of owner, founder Victoria Bain, the company has mastered the use of innovative embroidery in patterns that are both formal, and classical. The patterns all originate in a hand drawing and then with a mix of either hand or machine embroidery they are brought to life. "I have always been drawn to the capability of stitch, be that hand or machine work, and the rich variety of texture and pattern that it can create." says Bain "A stitch for me is a means of expressing an original idea in a very personal way."
"The addition of embroideries to the luxury items we offer is a great opportunity for those clients looking for a bespoke design element." explains Richard Chilcott, CEO of J. Robert Scott. Ms. Bain's work can be requested on many of the textile qualities offered through J. Robert Scott showrooms including selections of JRS Superkidskin™ and cow hide. Victoria Bain Embroidered Textiles have been incorporated into residential, yacht, and hospitality settings.
ABOUT VICTORIA BAIN EMBROIDERED TEXTILES
Victoria Bain Embroidered Textiles is a luxury design studio producing exquisitely embroidered fabrics for the home. With a Couture Parisian background, and inspired by the Atelier of Lesage, one of the greatest embroiderers of our time, Victoria established her Company in 1994. The Studio is based in Highgate in North London.
Victoria's unparalleled knowledge of embroidery stitch and her attention to detail has brought her high acclaim and her work features in high end residential projects to luxury property developments around the world. Her work also covers luxury and boutique hotels, working with hotel groups such as the Four Seasons, The Sandy Lane, Barbados, Rocco Forte Hotels, and The Dorchester, amongst others.
The Inspiration behind Victoria's designs stem from her passion for art history. British archives, and stately homes, so rich in design inspiration, often shape her starting point. Each design is meticulously researched and techniqued. All designs are initially hand drawn as Victoria is 'a great believer in the hand-touch over mechanical CAD touch', it allows for an organic rhythm that at times she feels is unattainable through computer software. That saying for the machine worked embroidery the artwork is then scanned in and worked over stitch wise with computer software but only in order to make sure that every stitch is considered and blended correctly, she is keen that the finished product will almost pass for hand-work. Hand work is created by highly skilled Sari workers in Southern India. Each of her Collections are produced by teams that are able to technically achieve the standards and to push the boundaries dictated by Victoria. The 'off the peg' designs are created by a team in Europe, with the 'made to measure' offer, produced in the UK for fast turnaround and outstanding quality control.
Superyacht designers are attracted to the 'couture arm' of the Company and Victoria regularly creates custom items for both upholstery and curtaining.
Beauty and a beautiful home are central to the Company's philosophy. The Company believes that 'beauty is found in the detail'.
ABOUT SALLY SIRKIN LEWIS AND J. ROBERT SCOTT, INC.
J. Robert Scott, Inc. the luxury home furnishings manufacturer was founded in 1972 in Los Angeles by Hall of Fame designer Sally Sirkin Lewis. The company was born out of Ms. Lewis' desire to provide her clients with contemporary, well made furnishings that met her uncompromising standards of quality and beauty. Her understated, signature style has become known as "California Design." To this day, she serves as the President of the company, which has established itself as an influential design force around the world, with company owned showrooms in Los Angeles, New York, Chicago, and London, and representation in 16 cities in 11 countries.
Throughout her career, Ms. Lewis has been awarded more than 150 U.S. Design patents, including a U.S. Utility Patent for her furnishings which are manufactured by hand in the 70,000 square foot factory in Inglewood, California. Through her guidance and direction, J. Robert Scott has gained recognition as an exceptional resource for custom design furniture. It is rare to find a company that can modify any of their existing items, or create an entirely new piece, tailored to the specific needs of their clientele. It is not unusual to see skilled craftsmen, many of whom have been with Ms. Lewis for more than 20 years, hand sewing the edges of a sofa or patiently applying gold leafing to a console. The techniques used are the traditional construction methods that date back to the Renaissance, these talented craftsmen are truly modern day artisans.
J. Robert Scott is well known in the interior design industry for utilizing rare and exotic veneers, as well as Shagreen, snake and goatskin parchment in the manufacturing of its products. The textile division offers a distinctive range of hand-woven silks, silk mohair, wools, velvets and JRS Superkidskin™ among nearly 700 couture-quality luxury fabrics, in the most appealing and contemporary colorways. Furniture and textiles designed by Sally Sirkin Lewis for J. Robert Scott are instantly recognized for their beauty and valued for their quality, the essence of the company's commitment to producing "Furniture as an Art Form."
For additional company and product information, please visit http://www.jrobertscott.com
# # #
Digital Images Available upon Request