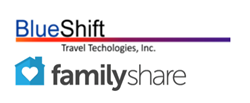 SALT LAKE CITY, Utah (PRWEB) August 17, 2016
BlueShift Travel Technologies and FamilyShare, a Deseret Digital Inc. platform, announced today a partnership that will launch a travel booking platform for the millions of FamilyShare's social followers.
"FamilyShare is excited to partner with BlueShift to provide such an innovative travel solution to help further enhance the value that we provide for the millions of loyal families that interact with our social content network on a daily basis," said Saul Leal, General Manager of FamilyShare.
FamilyShare will launch a new brand, FamilyShare Travel, to their organization and add a travel section to their website. The travel section will include the booking platform as a widget within every article. Users then can plan and book their whole vacation on FamilyShare's travel section.
"We believe this partnership will create the perfect opportunity to engage and inspire the millions of FamilyShare's followers to dream, plan, and book family vacations like never before," said Zachary Paul, President and CEO of BlueShift.
For more information about BlueShift Travel Technologies please contact us at 801-689-2763 or visit our website at http://www.blueshifttravel.com.
About BlueShift Travel Technology
BlueShift is a Utah-based company focusing on the international travel markets. The company offers a one-stop booking platform that is white-labeled to clients' brands, allowing their customers to book lodging flights and travel insurance. The company also offers clients an analytic platform to assist them in their marketing decisions.