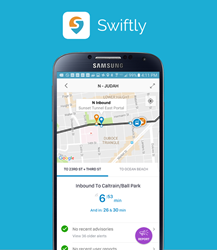 San Francisco, CA (PRWEB) August 16, 2016
Today, Swiftly, Inc. has released its popular free multi-modal transportation app on Android. Unlike other transit apps which leverage open data, Swiftly's unique technology platform called Transitime generates more accurate transit arrival and departure information based on live vehicle positions, historical travel times, and other factors. Users of the Swiftly mobile app can expect more accurate transit arrival information while watching upcoming vehicles move on a live map. "We are thrilled to bring more accurate real-time transit information to millions of Android users," said Jonathan Simkin, founder and CEO of Swiftly, Inc.
Swiftly's multi-modal trip planner also helps users navigate to any destination by comparing the cost and travel time across public and private transportation modes. Using real-time information, users can compare their nearby transit options side-by-side, seeing important information like live surge pricing, rideshare vehicle ETAs, and even the number of calories one will burn by walking or biking.
In addition, users of Swiftly's mobile app can report crucial information about their transit system, like delays or crowding, and can share that information with other users automatically. These user reports are visible to other users along the reported transit routes, improving the commute for transit riders with the power of crowdsourced information.
Download Swiftly for free for iOS or Android at: http://goswift.ly/download
About Swiftly, Inc.
Swiftly is a data-driven technology platform that helps transit agencies improve their operational efficiency, make smarter infrastructure investments, and better engage their riders. The company's flagship product, Transitime, generates more accurate real-time transit information for riders and provides agencies with robust reporting on their operational performance. The company is based in San Francisco, CA. More information can be found at http://www.goswift.ly or on Twitter @SwiftlyInc.