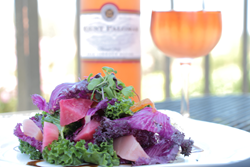 Temecula Valley, CA (PRWEB) August 16, 2016
Cool and refreshing late-summer salads make dining in Temecula Valley Southern California Wine Country another great reason to visit during the month of August. Temecula Valley wine country chefs use garden fresh ingredients to make irresistible entrée salads with some surprising pairings of Temecula Valley's finest wines. (Hint: Not all salads pair best with white wines.)
1. The Restaurant at Leoness Cellars favors the sensational figs now in season with their Fig & Goat Cheese Summer Salad. Dive into delight with this seasonal selection of mixed baby greens, julienne of carrot and cucumber, sliced red onion, baby tomatoes, house made candied nuts, with white balsamic dressing and fried prosciutto garnish. This salad pairs wonderfully with Leoness Cellars' 2015 Viognier.
2. Meritage at Callaway Vineyard & Winery offers a unique twist on the traditional California fruit with their Beer-Battered Avocado Salad. This summer salad includes locally-grown wild arugula, Gorgonzola, and whole cloves of roasted garlic. These ingredients are tossed with a crisp house made vinaigrette dressing and are then plated with large pieces of beer battered avocado. A surprising wine to pair with this plate is Callaway's 2012 Special Selection Mourvedre.
3. Vineyard Rose at South Coast Winery has created a juicy and refreshing selection of locally-grown ingredients for their Heirloom Tomato and Harry's Berries Salad. The new menu feature includes a perfect balance of fresh-off-the-vine tomatoes and Purple Haze goat cheese with a light, simple and tasty EVO and balsamic dressing. A topping of arugula makes this salad paradise on a plate. South Coast Winery's 2011 Grenache is an ideal pair for this lovely salad.
4. Annata Bistro at Mount Palomar Winery welcomes a warm afternoon with a strikingly colorful display of refreshing produce in the perfect seasonal Citrus Salad. This exquisite summer selection contains fresh and creamy Burrata cheese, blood orange, naval orange, grapefruit, purple and green kale, striped beets, extra virgin olive oil, and a white balsamic reduction. This particular summer creation is only available on the weekday menu (Monday-Thursday). This salad pairs incredibly with the slightly sweet 2013 Cinsaut Blush.
5. Creekside Grille at Wilson Creek Winery serves a light and imaginative Cucumber, Melon, and Heirloom Tomato Salad. The leaf crown lettuce head is topped with local, organic cucumber, melon, tomato, sweet onion, and feta cheese with a homemade raspberry vinaigrette. Wilson Creek's Sparkling Rose is the predictable yet sensational recommended pairing.
Dining, wine tasting, shopping, exploring and outdoor adventures can wrap up the summer with great, long-lasting memories. Temecula Valley is located just 60 minutes from San Diego, Orange County, and Palm Springs; and 90 minutes from Los Angeles. Weekday stays are suggested for leisure, quality tasting experiences. To book your 2-3 day stay in Temecula Valley, click on VisitTemeculaValley.com.
About The Temecula Valley and Visit Temecula Valley
With natural gifts of climate and geography Temecula Valley is recognized for scenic vineyards, award-winning wines, and gracious, friendly wineries as Temecula Valley Southern California Wine Country. The popular boutique friendly destination includes the Temecula Valley A.V.A. (American Viticulture Area) as well as Downtown Old Town Temecula, Pechanga Resort & Casino, and the Temecula Wine Country Golf Trail.
Visit Temecula Valley is the region's official tourism marketing organization and an online resource for visitors at VisitTemeculaValley.com. Temecula Valley Visitors Center is located in Old Town Temecula (Third Street and Mercedes). For visitor information and assistance, call 888/363-2852 or 951/491-6085.
###