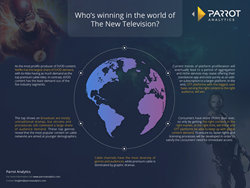 Consumers have more choice than ever, so only by getting the right content, in the right market, at the right time, will linear and OTT platforms be able to keep up with global content demand
Beverly Hills, Ca. (PRWEB) August 18, 2016
MIPCOM, the world's entertainment content marketing, and Parrot Analytics, a data science company that measures country-specific cross-platform audience demand for content, today revealed a MIPCOM exclusive whitepaper 'Who's winning in the world of The New Television'. It is in line with MIPCOM's 2016 theme "The New Television", in a whole new world where television has never been so in demand.
Parrot Analytics has captured an unprecedented range of online demand expression platforms that include video streaming, social media, blogs and micro-blogging platforms, fan and critic rating sites, file-sharing sites and peer-to-peer protocols to enable the industry to compare audience demand for content across all distribution platforms in all markets around the world, on the same measurement scale.
This allows MIPCOM & Parrot Analytics to unveil who is truly winning in today's global TV landscape – across broadcast, cable, premium cable, SVOD, and AVOD platforms. With antiquated audience measurement systems and a rapidly fragmenting OTT landscape making traditional metrics of popularity obsolete, Parrot Analytics dives deep into understanding what audiences are truly demanding in the world of The New Television.
Some of the key insights in the whitepaper include:
•Current trends of platform proliferation will eventually lead to a period of aggregation and niche services may cease offering their standalone app and exist purely as an add-on subscription to a larger platform. In the end, OTT platforms with the biggest user base, serving the right content to the right audience, will win.
•Consumers have more choice than ever, so only by getting the right content, in the right market, at the right time, will linear and OTT platforms be able to keep up with global content demand. To ensure so, faster rights and licensing processes will be developed in order to satisfy the consumers' need for immediate access.
•The top shows on broadcast are mostly untraditional dramas, but sitcoms and procedurals still command a large share of audience demand. These top genres reveal that the most popular content on cable networks are aimed at younger demographics.
•Cable channels have the most diversity of genres and audiences, while premium cable is dominated by graphic dramas.
•As the most prolific producer of SVOD content, Netflix has the largest share of SVOD demand, with its titles having as much demand as the top premium cable titles. In contrast, AVOD content has the least demand out of the five industry segments.
To find out more and access the whitepaper, please visit bit.ly/mipnewtv
About MIPCOM
MIPCOM is the year's most anticipated global market for entertainment content across all platforms. Each October, the industry's major players converge in Cannes to turn every moment into an opportunity, transforming four days of meetings, screenings and conferences into deals, from blockbuster programming to ground-breaking partnerships.
And MIPJunior is the leading showcase for kids programming, uniting the world's most influential buyers, sellers and producers the weekend before MIPCOM. Over two days, these influential players, along with publishers and licensing executives, present, discover and screen the very latest content, giving them the edge on concluding deals at MIPCOM.
About MIPCOM's 2016 theme: The New Television
It's a whole new media world out there—where the power of choice prevails, where linear and non-linear feed into each other and where the crossover between digital and traditional is gaining momentum.
It's a powerful new playing field where high-end originals, inspiring voices and global rights control are key assets. It's a whole new world where television has never been so in demand.
Please visit http://www.mipcom.com
About Parrot Analytics
Parrot Analytics is a data science company that empowers media companies, brands and agencies to understand global audience demand for television content. Wielding the world's largest audience behavior data sets, the company has developed the world's only global cross-platform, country-specific audience demand measurement system.
Parrot Analytics captures an unprecedented spectrum of actual audience behavior including video streaming consumption, social media, blogging platforms, file-sharing and peer-to-peer consumption spanning 249 countries. This enables media companies, for the very first time, to understand audience demand for content across all content distribution platforms in all markets around the world.
For more information visit http://www.parrotanalytics.com