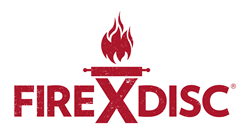 "The additional sales team bandwidth will enable us to better serve and educate our retail partners and the end users of FireDisc® products," says Bob Franke, SVP Director of Sales and Marketing.
Houston, TX (PRWEB) August 16, 2016
Growth acceleration for FireDisc® continues under the meticulous vision of FireDisc® Co-Founders, Hunter and Griff Jaggard. In 2010 the entrepreneurial duo set out to custom-design a pinnacle line of grills/accessories that could perform like none other on the market. FireDisc® grills are in a league of their own and the marketplace is responding in a big way. FireDisc® has now achieved warehouse status across the board in ACE, Do-it-Best and True Value, and continues to fold-in successful new business collaborations. Most important to note, however, is the brands' commitment to careful management of this widespread growth. Strategic positions have been added in sales, production and office administration to afford the current management team to remain committed to customer satisfaction and new product development.
With combined annual sales of ACE, DIB and True Value in the billions and cumulative doors totaling 8,000+ it is no surprise the FireDisc® brand is getting broad visibility. The recent achievement of warehouse status in all three Hardware co-op's is compounding sales. Under the guidance of Bob Franke, FireDisc® SVP director of sales and marketing, the brand is carefully positioning themselves to accommodate and manage the growth.
Three new sales positions have been added including a dual role for hunting/fishing brand ambassador, Lou Gasperin who will also cover southeast region sales, and two key account management roles. Jason Porter and Garland Harrell, both former military veterans with strong sales management experience, were hired to fill the key account manager roles. Porter gained his sales experience in wireless and also spent time as a Security Officer at NASA's Johnson Space Center in Houston, Texas. Harrell has been a driving force in the development of successful sales models for renowned brands such as LifeTime Fitness, NBC and Vyrian. New production and office management roles have also been filled to accommodate increasing customer requests and follow up support needs that go hand-in-hand with strong sales.
"FireDisc Grills continues to grow and achieve more traction with the consumer," explains Bob Franke, FireDisc® SVP Director of Sales and Marketing. "The additional sales team bandwidth will enable us to better serve and educate our retail partners and the end users of FireDisc® products."
Successful new business collaborations such as a partnership with Crawford Outdoors, is also fueling sales. Crawford Outdoor is a national distributor of outdoor products such as grills, BBQ accessories, spices and sauces, firetables, heaters, and coolers, thus perfectly poised to take advantage of the FireDisc® range of grills and accessories. The FireDisc® and Crawford Outdoor partnerships has been a tremendous success out of the gate for both parties.
http://www.crawfordoutdoor.com/
About FireDisc® Grills:
Texas-based FireDisc® Grills specializes in the design and manufacturing of the world's most the innovative, high-quality and versatile outdoor grills and accessories. The company was founded by two entrepreneurial brothers, Griffin and Hunter Jaggard, who, armed with a makeshift tractor plow disc set out on a mission to build a grill worthy of everyone from the world's top chef's to hunters, backyard family grill masters, tailgaters and campers. FireDisc® Grill products are currently sold nationally via 500+ retail locations in over 31 states and online throughout the globe.
Heavy-duty carbon steel construction render the grills indestructible, while meticulous designs yield convenient portability and ease-of-use. A rigorous "Chef-tested/Chef-Approved" quality assurance program enables the grills to deliver unmatched grilling characteristics, as they have been vetted by some of the world's leading chef's. Prior to their launch of FireDisc® Grills, the founders formed a non-profit to raise money and find a cure for Multiple Sclerosis. To date $1M has been raised via "The Carney Men" Bike MS team. For more information, visit http://www.firediscgrills.com Community Involvement: http://www.firediscgrills.com/company-involvement/
###