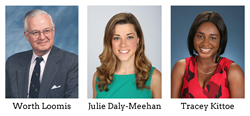 West Hartford, CT (PRWEB) August 17, 2016
BlumShapiro is proud to announce their sponsorship of Leadership Greater Hartford's (LGH) 40th Anniversary Gala and Polaris Awards on Tuesday, November 15 at the Bushnell Center for Performing Arts. This gala will be a celebration of the more than 20,000 constituents served who have benefited from their involvement with LGH over the past 40 years.
Drawing on the wisdom of the past and the leaders of the present to ensure a future generation of community-minded citizens tomorrow, Leadership Greater Hartford will be recognizing three outstanding individuals to receive the 2016 Polaris Award.
Worth Loomis, one of the original "bishops" who conceptualized LGH back in the mid-1970s, was key in envisioning the kind of community LGH was organized to foster – one that would "lower the barriers of race, age, education and economics in ways that would convince all residents of Greater Hartford that they lived in a fair and just community."
Julie Daly Meehan, HYPE Executive Director and Director of Investor Engagement & Digital Media at the MetroHartford Alliance, is also a graduate of LGH's 2007 Quest program and a former LGH program coordinator. The recipient of the 2008 Hartford Business Journal's 40 Under Forty award, Julie was also named one of Hartford Magazine's 50 most influential people in 2012. She has dedicated 10 years helping young people discover the attributes of Hartford.
Tracey Kittoe, from Ghana, West Africa, is an international student at Central Connecticut State University and a graduate of LGH's Leading Off Campus program. Along with her Leading Off Campus team mates, she created and implemented The Hartford Scramble - a community service learning project aimed at increasing college students' interest in the City of Hartford. Graduating in May 2017 with a B.A. in Economics with a double minor in Accounting and Business, Tracey plans to work and build a career in the Hartford area.
The Polaris Award recognizes community leaders for their vision, skill, and courage in serving the Greater Hartford community and for being a "Polaris" - the North Star that lights and guides the way for others to follow.
Just like BlumShapiro Leadership Greater Hartford recognizes that a community is more than just a collection of buildings and the people who occupy them. They know that leadership is the energy that it takes to establish, nurture, and expand the connections between people to bring the character of a community forward. For the past 40 years Leadership Greater Hartford has been bringing people of diverse backgrounds together to build the awareness and mutual trust needed to create constructive partnerships that serve the greater good.
The 40th Anniversary Celebration and Polaris Awards takes place at 5:30 p.m. on Tuesday evening November 15 at The Bushnell Center for Performing Arts. BlumShapiro friends, clients, and ALL members of the community are invited to celebrate the successful leaders created and how they have made our community better and stronger. You can register for Polaris online at leadershipgh.org. For information about Polaris sponsorship opportunities contact Katy Bannister at 860.951.6161, ext. 1800 or katy.bannister(at)leadershipgh(dot)org.
BlumShapiro is the largest regional business advisory firm based in New England, with offices in Connecticut, Massachusetts and Rhode Island. The firm, with over 400 professionals and staff, offers a diversity of services which includes auditing, accounting, tax and business advisory services. In addition, BlumShapiro provides a variety of specialized consulting services such as succession and estate planning, business technology services, employee benefit plan audits and litigation support and valuation. The firm serves a wide range of privately held companies, government and non-profit organizations and provides non-audit services for publicly traded companies.
Leadership Greater Hartford (LGH) is a mission-driven, nonprofit organization that supports and strengthens the local community by training and connecting aspiring and established leaders. For more information about how to be a participant or sponsor, or to inquire about customized training with Leadership Greater Hartford, call 860-951-6161 (x1800), email info(at)leadershipgh(dot)org visit http://www.leadershipgh.org, or follow LGH on Facebook and Twitter @leadershiphtfd.
-#-