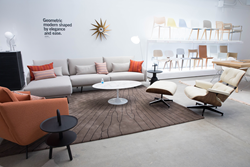 "Austin is one of the coolest cities in the country, with a great passion for modern design," says DWR CEO John Edelman. "Now we will be able to show three times more authentic modern furniture than ever before."
Stamford, CT (PRWEB) August 16, 2016
Design Within Reach has opened a gleaming new Studio in Austin's Domain NORTHSIDE, the city's latest live, work, play community that brings together best-in-class brands and first-to-Austin experiences. The Austin Studio, which replaces a smaller space downtown and is one of the largest in the U.S., showcases DWR's innovative approach to presenting modern design.
DWR is the largest retailer of authentic modern furniture and accessories in the world. Among the innovations in the new Austin Studio is the Light Cloud, an installation of more than 100 pendant lamps from the DWR assortment, which billows overhead throughout the space and engages the customer's imagination. The signature DWR Swatch Wall at the center of the space is a spectrum of material and color represented by hundreds of wall-mounted upholstery tiles, offering a glimpse of the more than 3,000 custom options available on most upholstered furniture.
"We know everything is bigger in Texas," says DWR CEO John Edelman. "And that's why we're so thrilled to be moving into this big beautiful new home in Domain NORTHSIDE."
The new space provides DWR the opportunity to introduce new ways to best show its assortment of authentic modern products.
Customers will immediately notice the larger footprint and discover 25 fully-realized room vignettes – living rooms, dining rooms, and bedrooms – that integrate iconic, authentic classics of modern furniture with DWR's exclusive collections and the work of designers including Charles and Ray Eames, Norm Architects, Matthew Hilton, George Nelson and Jens Risom.
A large area of the Studio is dedicated to the full range of DWR's outdoor collections for lounge and dining, including sunshades and lifestyle accessories, as well as an extensive assortment of task chairs, perfect for work or the home office.
A private showroom is available for one-on-one consultations and collaborations with a DWR Account Executive, clients and their decorators and architects, facilitated by DWR's own 3-D room rendering technology and access to a world of design solutions beyond just the examples on display in the Studio.
To bring the Austin Studio to life, the company continued its work with New York-based architecture firm DFA and enlisted the help of Light Studio LA to create dramatic lighting design throughout the space.
DWR has been a presence in Austin since 2005. With its repositioning in the Domain NORTHSIDE, customers will experience more authentic modern design than ever before. Hundreds of products unrepresented at the previous downtown location will now have a place in the new Studio, in an environment that properly reflects the DWR quality and style.
"This is one of the coolest cities in the country, with a great passion for modern design," Edelman says. "Now we will be able to show three times more authentic modern furniture than ever before in Austin. I can't wait to celebrate with the Austin design fans."
The DWR Austin Studio, nearly 12,000 square feet, is located in Domain NORTHSIDE at 11800 Domain Blvd, Suite 170, Austin, TX 78758. The Studio can be reached at 512.582.1336 from Monday–Saturday, 10am–8pm, and on Sunday, 12–6pm.
Design Within Reach, Inc., founded in 1998 and headquartered in Stamford, Connecticut, is the world leader in authentic modern design. The company sells its furniture and accessories to residential and commercial customers through retail Studios in North America, via the Web at dwr.com, by phone at 1.800.944.2233 and through the Contract division at dwrcontract.com. Design Within Reach, Inc. is a subsidiary of Herman Miller, Inc. For additional images and information, contact Kim Phillips at pr(at)dwr.com.
About Herman Miller, Inc.
Herman Miller is a globally recognized provider of furnishings and related technologies and services. Headquartered in West Michigan, the global company has relied on innovative design for over 100 years to solve problems for people wherever they work, live, learn, and heal. Herman Miller's designs are part of museum collections worldwide, and the company is a past recipient of the Smithsonian Institution's Cooper Hewitt National Design Award. Known and respected for its leadership in corporate social responsibility, Herman Miller has been included in the Dow Jones Sustainability World Index for the past 12 years, and has earned the Human Rights Campaign Foundation's top rating in its Corporate Equality Index for the past nine years. In fiscal 2016, the company generated $2.26 billion in revenue and employed nearly 8,000 people worldwide. Herman Miller trades on the NASDAQ Global Select Market under the symbol MLHR.