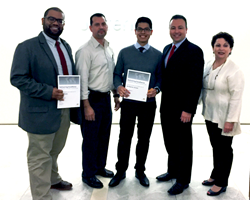 (PRWEB) August 18, 2016
Swiss Post Solutions (SPS), an innovative leader in business process outsourcing and digitization solutions, is pleased to announce that it has recognized tenure milestones for more than 250 employees for the second straight year.
SPS North America Chief People Officer, Russ Cusick, said, "In our quest to recognize the achievements of our employees, the tenure awards give us an opportunity to applaud those employees that have made our operation a success through their loyalty, dedication, hard work, and especially through their active engagement in satisfying clients on a daily basis."
SPS' annual Tenure Awards are distributed by members of the SPS North America Executive Leadership Team, who travel around North America to personally congratulate all award recipients. 2016 marks the highest number of tenure recipients at SPS, exceeding the previous mark that was set just last year. Recognition programs, like the Tenure Award program, demonstrate SPS' commitment to retaining its most dedicated employees.
Also contributing to SPS' employee retention is the robust training, development, and benefits programs including 401(k) employer match and comprehensive health insurance. These key differentiators are among the reasons for SPS' low turnover rate and high employee satisfaction.
"As we continue to implement innovative solutions for businesses nationwide, it is critically important to develop and retain reliable and skilled talent. In accordance, we provide our people with a rewarding and motivating work environment that aligns with our core values of delivering service excellence to our clients," said Dan Moscatiello, SPS North America CEO.
About SPS
We connect the physical and digital worlds
Swiss Post Solutions (SPS) is a leading outsourcing provider for business processes solutions and innovative services in document management. A strong international client base relies on SPS' ability to envision, design and build end-to-end solutions and to be its trusted advisor for the key value drivers in BPO: location strategy, process optimization and technology, such as intelligent automation. Part of the Swiss Post Group headquartered in Bern, Switzerland, SPS' 7,500 employees and specialized partners span the full range of the industry – from insurance, banking, telecommunications, media, retail to energy supply and travel & transportation – addressing customer needs in more than 20 countries.
Swiss Post Solutions (SPS) North America (NA) offers a comprehensive suite of business process outsourcing solutions and document management services that transform key business applications from paper to digital documents, enabling improved workflow and enhanced efficiencies. In the field of outsourced office services, SPS NA provides mailroom management, managed print services, reprographic services, IT helpdesk support, front office and reception services to clients from an array of industries, including financial services, media & entertainment, legal, higher education, and manufacturing among others. Headquartered in New York City, SPS NA has offices in Los Angeles, San Francisco, Chicago, Washington DC and Toronto, and operates secure document processing centers in Long Island City and Toronto.