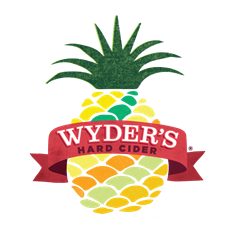 Middlebury, VT (PRWEB) August 16, 2016
Wyder's® Hard Cider, which has specialized in eclectic fruit-forward ciders for more than two decades, has a new addition to its portfolio – Wyder's Prickly Pineapple.
"One of the first ciders to catch the craft movement on the Pacific Northwest, Wyder's has continued to delight fans with its quirky and fruit-forward flavors," said Megan Skinner, Wyder's Brand Manager. "It's a pretty hyper-connected world, so when you get a chance to unplug, we think Wyder's Prickly Pineapple is a refreshing break."
An exotic duet, Wyder's Prickly Pineapple combines the juices from both prickly pear cacti and pineapples. Tickling the tongue, each sip brings forward a light and sweet taste like a refreshing piňa colada.
Prickly Pineapple (5% ABV) joins the other members of the Wyder's portfolio of gluten free hard ciders:

Dry Pear – This light, crisp cider presents a tangy aroma while offering a distinct pear taste, and ends with a lively mouth feel that tickles the tongue. (4%ABV)
Dry Raspberry – This cider is light in body and features mouthwatering raspberry notes. It retains a dry and sparkling finish. (4% ABV)
Reposado Pear –Wyder's Dry Pear is aged in a reposado tequila barrel, yielding a refreshing cider with smooth subtle oak laden tequila notes. (6.9% ABV)
Wyder's Prickly Pineapple will be initially available in Washington, Oregon, California, Arizona, Idaho, Nevada, Texas and Colorado in 12 ounce bottle six packs ($9.99) and draft. A list of accounts is available at http://www.wyders.com/locator/.
The brand will be supported through launch events in targeted markets like Portland, San Diego, San Antonio and Denver, social media, influencer marketing and public relations.
About Wyder's Cider
In the late 80s and early 90s, the Pacific Northwest saw the first wave of the craft movement in beer and cider. Among those riding that wave was Wyder's® Cider out of Vancouver, Canada. In 1993, Wyder's® moved to the US and launched Wyder's Pear and Raspberry, two of the first cider varieties to feature a second fruit, and word of their unique taste spread quickly. Wyder's® has continued steady growth through the years, and now includes a portfolio of Pear, Raspberry, Reposado and Prickly Pineapple varieties.
# # #
Samples and hi-res images are available by contacting Megan Skinner, phone and email.