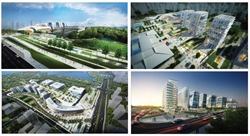 New York, New York (PRWEB) August 17, 2016
LAGUARDA.LOW Architects, an internationally acclaimed architecture design and planning firm, based in New York City, was awarded first prize in a worldwide competition conducted by the city of Jining's Public Cultural Facilities Group, in Jining Shangdon, China. The city invited several renowned architecture firms to compete for the project. Laguarda.Low's design will be built in six phases, beginning with a new hotel, retail center, four office towers and two high end residential buildings
The primary concern with the four-million square foot mixed use complex was not to overshadow the importance of the four museums. Because of each building's significance, the development of retail, residential, hotel and offices, becomes the backdrop of the cultural buildings.
The project is a four-million square foot master plan and design for a mixed-use development with a series of central public plazas between the proposed development and four planned cultural buildings, including a museum designed by Mario Botta and Fine Art Gallery by SANAA.
"We are thrilled to be awarded first prize in this prestigious Master Plan competition, and for our design to be a permanent part of the future of Jining," said Pablo Laguarda FAIA, Principal at LAGUARDA.LOW Architects. "We created our design based on a deep respect for Chinese culture with the goal to create maximum contextual spaces for all to enjoy."
LAGUARDA.LOW's design adds seven new buildings to the site, including a hotel and retail mall, four office towers, two residential towers and seven single-story retail pavilions. The design sought to complement the new cultural facilities by integrating the new buildings onto the site. A cohesive design was created by adding a grand public plaza (including landscaped plantings, courtyards and water features) between the cultural buildings and the mixed-use development.
The east facing facades are clad in white stone, matching the paving of the plaza. This particular stone was chosen to provide uniformity in materials between the paving, building facade and roof, and create a curtain like backdrop for the cultural buildings.
The plan includes five mixed-use master plan components comprised of:

Office: 1,300,000 square feet
Retail: 960,000 square feet
Street Retail: 515,000 square feet
Residential: 330,000 square feet
Hotel: 125,000 square feet
# # #
About LAGUARDA.LOW Architects
LAGUARDA.LOW Architects is an award-winning architecture practice in New York City with a vast portfolio of built work throughout the world. Over the firm's 16 year history, LAGUARDA.LOW Architects has completed numerous projects, including large-scale master plans, mixed-use developments, office and residential towers, hotels, and retail centers. With a close-knit, creative and international staff of over 50 design professionals, LAGUARDA.LOW's work is driven by the desire to create vibrant and unique visitor experiences that enhance the client's overall vision for the project.