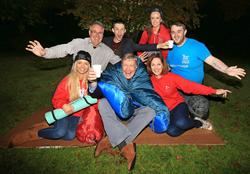 As Byte Night gets closer, we're encouraging people to register now. It's an absolutely inspirational event. There's the opportunity to be part of one of the biggest annual fundraisers in the UK, and to make a real difference for young people
(PRWEB UK) 17 August 2016
Last year the national 'sleep-out' event prompted 1200 professionals primarily from the technology and business sectors give up their beds for one night to help change the lives of vulnerable young people. Those interested in taking part this year are being encouraged to register as soon as possible, as preparations get underway to organise the event that requires over 280 volunteers, 1,700 umbrellas, and nearly 2,000 meals.
Byte Night Board members and 'sleepers' at this year's flagship London event will include normally suited and booted senior representatives from Norton Rose Fulbright (hosting the sleep-out); KPMG; City and Guild; BT; Lombard Risk; SAP; SAS; Accenture; and IBM among others. Byte Night is in the top 20 biggest participation charity events in the UK, and this year's sleep-out has an overall target of £1.4 million to be raised by the end of the year.
Jackie Ball, Head of High Value Fundraising for Action for Children is calling for anyone who wants to get involved, to get registered. "There's nothing like actually sleeping out to gain a tiny insight into some of the daily challenges of young homeless people," said Jackie.
"As Byte Night gets closer, we're encouraging people to register now. It's an absolutely inspirational event. There's the opportunity to be part of one of the biggest annual fundraisers in the UK, and to make a real difference for young people that Action for Children work with all year, providing essential support, education and accommodation."
The event takes place in 10 locations in the UK, and this year's London location will be the Norton Rose Fulbright and St John's Churchyard. Registrations can be done individually, or as a team. To register, go to bytenight.org.uk