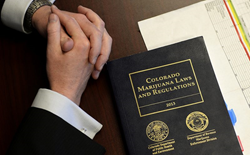 It's obvious that there are security companies who are either taking short cuts or not advising their clients on how to comply with regulations.
(PRWEB) August 18, 2016
Customers and businesses in Denver's marijuana industry are being put at risk by non-compliance with security and safety regulations. Security experts are becoming increasingly concerned by an apparent increase in failings by certain elements within the security sector. A recent survey of cannabis dispensaries and other facilities licensed to sell marijuana identified a series of significant failings. Less than half of facilities inspected had cameras placed in the correct location while two thirds of those inspected had camera views that were obstructed in some way. Other security failings included systems unable to capture and print screenshots (66% of businesses), not all external doors being properly alarmed (25%) and one fifth (20%) that had no intrusion alarm installed whatsoever. A significant proportion had no way of being notified in the event of a power failure while nearly half (45%) didn't have a locked security room.
The City of Denver operates an in-depth inspections process for licensed marijuana retailers and dispensaries. Inspections are carried out by the city's Marijuana Enforcement Division, Community Planning and Development, Environmental Health, Excise and Licenses and Fire Prevention departments.
Derek Porter, CEO of Denver Based Security Grade Protective Services says: "We're really concerned by these figures and the shortcuts that are being taken by some in our industry. We take great care in ensuring our customers are fully compliant with regulations but it's clear this isn't the case with some of our competitors. It's obvious that there are security companies who are either taking shortcuts or not advising their clients on how to comply with regulations. This is very irresponsible and is worrying for the long term success of the cannabis industry."
"Our competence within the security sector was recently recognized through GSA accreditation. Because we offer a complete service to the industry we are best placed to ensure our customers are complying with cannabis law. We are also committed to raising awareness and advocating on behalf of the industry to ensure the long term growth and sustainability of the cannabis industry in Colorado."
For more information on Security Grade Protective Services, contact Derek Porter at info(at)securitygrade(dot)com
Additional Notes:
Research commissioned by Security Grade Protective Services found the following (figures accurate May 2016):
Of all the security and safety issues found, the percentages per category were as follows:

14.3% Security Room Issues
26.6% Camera Issues
20.2% DVR Issues
21.8% Battery Back Up Issues
15.1% Alarm System Issues
2.0% Misc and other Issues
The following data shows the percentages of facilities affected by each issue. Some represent failings against inspection criteria. Others demonstrate that only a minority of inspected businesses were compliant with licensing regulations.

45.8% Security Room locked
20.8% Lockbox or Locking Cabinet for DVR/NVR (Digital Video Recorder/Network Video Recorder)
16.6% Camera facing the Security Room
54.2% Security log near DVR/NVR
66.5% Security Room camera monitored off site (No longer a mandatory regulation in Denver)
54.2% Front door cameras placed according to regulations
66.5% Remaining cameras placed according to regulations
66.5% Camera views obstructed
50.0% All cameras "IP66" rated
41.6% All cameras functioning properly
25.0% Minimum 19" monitor for DVR/NVR
16.6% Remote/Mouse for DVR/NVR Operation
66.5% Ability to capture and print screenshots
50.0% DVR/NVR recording a minimum of 40 days
33.3% DVR/NVR on battery backup
58.3% Cameras on battery backup
95.8% 4 Hour runtime on battery backup
20.8% Power failure notification system in place
20.8% Intrusion alarm installed
50.0% Panel free of error or troubles
25.0% All exterior doors have alarm contacts
29.2% All windows have alarm contacts
33.3% Motion detectors installed in proper locations
25.0% All locks are commercial grade
37.6% Manager has ability to review footage from 40 days prior