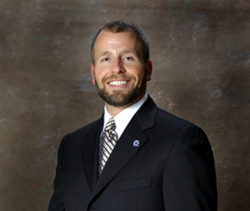 "Live so that when people think of adventure, excitement, and quality values, they think of you!"
Boca Raton, FL (PRWEB) August 17, 2016
Acclaimed motivational coach Chad E. Cooper is pleased to announce that Aug.15th is the date for the simultaneous launch of his new book, "Time Isn't The Problem, You Are," along with an online mastermind course that seeks to show everyone how they can transform their lives from stress to success. Chad believes that everyone has the power within themselves to create what he calls a 'Legendary Lifestyle' and become the next Bill Gates or Oprah Winfrey.
"There's nothing extraordinary about these successful people," says Chad. "They weren't sprinkled with fairy dust or had a genie give them three special wishes. What they do have are qualities that keep them performing at their highest level, qualities that anyone can have…if they know how."
Time Isn't The Problem, You Are, is the 21st century handbook for everyone feeling stuck and looking for a new direction in their lives. Chad provides a fun to read and easy to understand formula for developing those qualities, skills and habits that can enable anyone to achieve whatever they want. The online program teaches how to implement the strategies of the book to become a powerful communicator, find time to do anything and rediscover a passion for life. It includes group coaching sessions and exercises that enable participants to create their own personal strategy for success.
"It may sound audacious to title a book in a way that implies the reader is at fault," says Cooper. "But I believe strongly that we all must take responsibilities for our actions and own them. We're the problem and we're also the solution. The person attracted to this title is the person for whom this book was made, someone who is dissatisfied enough to seek advice and ready to do something about it."
Among the topics explored in the book are: Why "to-do" lists are an unproductive waste of time, the reason that how to say it is as important as what to say and practical and realistic advice on how to make time work well and not the other way around.
"Chad leads by example and generously shares his success secrets in the practical strategies in this book. They will allow you to take control over your destiny," says Mark Devine, NYT Bestselling author of The Way of the SEAL and founder of Unbeatable Mind.
US Olympic gold medalist Rebecca Roni says, "This book reaches into the essence of all the things you do, and shows you how to make them richer and more fulfilling."
"Chad Cooper is the real deal. He doesn't focus on tips and tricks. Instead he focuses on real issues that get real results. If you're trying to get the most from your life, I can't recommend Time isn't the Problem, You Are enough," says Jamie Turner, internationally-recognized author and CNN contributor.
About Chad. E. Cooper
Chad has partnered with the leading coaching organization in the world and also runs his own Factive Nautics Coaching organization servicing corporate CEOs, elite entrepreneurs and athletes, including many NFL, MLB, NHL, and WBO pros and gold and silver medal Olympians. He's also been world-class triathlete, small city official, and philanthropist and has used his success formula to complete more than 1,000 items on his personal bucket list. Visit
Listen to Chad https://www.youtube.com/watch?v=jLrbbnk_e1k
For More Information: Time Isn't The Problem, You Are is published by Morgan James.
Publicist: Devra Ann Jacobs, Dancing Word Group Agency
(910) 399-5069 or devra(at)dancingwordgroup(dot)com