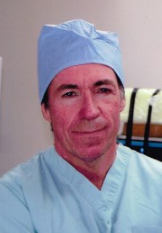 Scotch Plains, NJ (PRWEB) August 23, 2016
Dr. Buch has been practicing medicine for more than 25 years, and has been named one of the Top Doctors in New Jersey for the past eight years. From hernia repair to colon resection, carotid artery angioplasty and more, Dr. Buch understands the concerns that surgery may bring and offers the compassion and assurance you and your family can trust in. Conveniently located at The Courtyard in Hillsborough, our office includes a fully equipped ICAVL accredited vascular laboratory staffed by certified vascular technologists. They provide painless, detailed and state-of-the-art diagnostic evaluations. As always, their friendly and professional support staff strives to make your experience with them as comfortable and courteous as possible.
He is Board Certified in General and Vascular Surgery, Vascular Technology and Wound Care. Dr. Buch performs general and vascular surgeries at Somerset Medical Center or Somerset Ambulatory Surgical Center http://www.sasctr.com/about-us. While some general, vascular and endovascular procedures may require a short hospital stay, most laparoscopic surgery procedures are performed same day. Below is a list of common surgeries Dr. Buch performs.
General surgery includes but is not limited to Appendectomy, Breast Surgery, Colectomy, Inguinal hernia, Sentinel Node Biopsy, Thyroidectomy, Aneurysms, and Renal Artery Stenosis.
Dr. Edward Buch of Central Jersey Surgeons is conveniently located in Hillsborough, NJ. For more information you can visit Dr. Edward Buch's full profile at http://njtopdocs.com/nj-doctors/edward-d-buch-m-d-f-c-s/
About Us
NJTopDocs.com is a comprehensive information resource of Top Doctors, Dentists and Hospitals. We are profiling over 900 Healthcare Providers and have made it convenient for you to find them.
NJTopDocs.com allows patients to "meet" these providers online before making their appointment.
For more information, e-mail us at info@NJTopDocs.com and/or visit http://www.NJTopDocs.com.
You can also follow us on Facebook – Twitter – YouTube