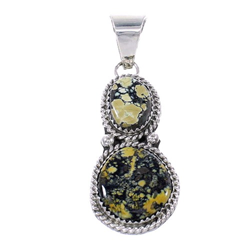 Our business is dedicated to art and quality and these pieces that Benally has put together are simply one of kind.
(PRWEB) August 21, 2016
There has been a recent uproar about a certain type of turquoise that holds a unique composition completely different from the common blue turquoise stone. New Lander turquoise is highly prized for its unique swirls of a deep black color in contrast with the yellow specks that partner this stone. While some stand in awe of its beauty, others take action with the combination, making something entirely new.
Famed Navajo artist, B. Benally, in conjunction with TurquoiseJewelry.com's new release, has compiled a collection of stunning jewelry that features the stone exclusively. New Lander turquoise itself is a pretty wild departure from the typical stone that people have seen numerous times over. The collection is collaboration between the company and the Navajo community that they frequently represent on their site.
The spokesman of the company, Jack Burch, released a statement along with their announcement. "Our new collection has something for everyone. We wanted to do a wide variety of styles that use the stone for all budgets so everyone can enjoy the stone if they find a similar inspiration in the unique color that Benally did when setting out to build the collection."
The new collection features mainly pendants so anyone can pair their own chain with these stunning pieces. People can expect to find a variety of colors in this collection as well. Although new lander turquoise typically features black and yellow/lime colors, there are variations and even completely different deposits that have both colors with a combined tint of green or similar patterns with light and dark blue.
Burch and the team at TurquoiseJewlery.com know that people are constantly looking for something new to break the mold. New lander turquoise is a stone with one of the most unique chemical compositions and colorations that the team has ever encountered.
Burch continued, "As we continue on into the summer and as the fashion styles change with the market, people need to find new ways to set themselves apart from what the department stores will be selling. Our business is dedicated to art and quality and these pieces that Benally has put together are simply one of kind."
Anyone looking to decorate their home with the interesting variation that is new lander turquoise can find a stunning collection of pendants within Benally's collection. The entire release also features a few other well-known artists, all set into different styles of sterling silver, like twisted and bezel cut stones. Guests are welcome to browse the rest of T urquoiseJewelry.com's inventory as well, featuring many more styles of bracelets, rings, earrings, necklaces, and art.