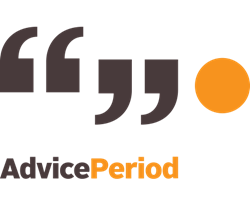 Los Angeles, California (PRWEB) August 18, 2016
AdvicePeriod has claimed the top spot in the Los Angeles Business Journal's 2016 Best Places to Work ranking.
The two-year-old wealth management firm was acknowledged for providing the greatest benefit to L.A. County's workforce, businesses and economy. This 10th annual ranking was created by the Los Angeles Business Journal and Best Companies Group.
"Our goal is to re-define the wealth advisory business—both for advisors and clients," said AdvicePeriod Principal Larry Miles. "This honor is validation we're on the right path."
AdvicePeriod is an independent financial advisory firm overseeing client assets of several billion dollars. Its leadership is no stranger to workplace excellence. In 2014, AdvicePeriod's Miles led his prior firm to the top spot in the Los Angeles Business Journal's Best Places to Work ranking. The firm's leadership also includes Steve Lockshin, a former Barron's magazine #1-ranked advisor.
"AdvicePeriod was designed for advisors, by advisors," said Jack Straub, a Founder and Principal at the firm. "Our advisors have the freedom and flexibility of entrepreneurs, and the support of a network of likeminded peers," Straub added. "And at the same time, we have a lot of fun."
The firm provides a unique value proposition for its advisors in terms of compensation, support and autonomy. Advisors receive 70% payouts—well above industry standards—as well as a robust suite of support and resources for closing and servicing wealthy clients.
To rank employers from across the county, the Los Angeles Business Journal painstakingly evaluated workplace policies, practices, philosophy, systems and demographics. This part of the evaluation contributed approximately 25% of the total score. An employee survey, measuring employees' experience, contributed 75% of the score. The combined scores determined the top companies.
About AdvicePeriod
AdvicePeriod, LLC, is a leading, SEC-registered investment advisor dedicated to focusing clients on the important decisions necessary to managing their wealth. Our mission: To make wealth management more fair, effective and successful, for clients and advisors alike. To learn more, visit: http://www.adviceperiod.com.
For more information on the Best Places to Work in Los Angeles program, visit http://www.BestPlacestoWorkLA.com.