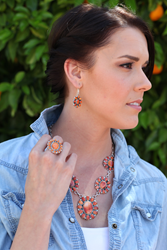 The idea is for people to find exactly what they want first, which is the discounts.
(PRWEB) August 19, 2016
When most people shop for jewelry or any other item, they tend to look at the price first. The two biggest motivators for shopping are the price tag and the quality of the item. One company has taken the opportunity to provide customers with a new way to get both in an interesting and effective way.
SilverTribe.com is a company that works with a community of Native American and Southwestern artists to provide people with the history and culture of the Southwest. Their pieces vary from intricate multicolor pendants to finely cut beaded necklaces; however, their artists always use the best material to create their work, often incorporating precious gems set into sterling silver.
The spokesman of the company, Chris Anderson, stated "Our guests are always helping us improve the functionality of our store. To make it easier for them, we have launched a page dedicated to offers and deals on our artisan-made discount jewelry. The idea is for people to find exactly what they want first, which is the discounts."
The artists that work with SilverTribe.com have gained much renown in the Southwest region over the years. Their work can be seen in the vivid imagery placed in multi-stone jewelry that create scenes of the Southwest using different gems, as well as a great collection of SilverTribe.com's best turquoise jewelry. All of these styles are contained within the vaults of the company's new discount page.
Anderson concluded by stating, "The reason we have been so successful and receive great feedback from our guests is because we have a simple operation, what people see is what they get. We meet with creative people that have a genuine gift with arts like metalwork, stonecutting, pottery, and we work with them to show the public what people are capable of creating with those talents."
The entire collection of discounts can be seen on SilverTribe.com's Deals Page, where people can browse and sign up for their free mailing list to receive more offers online as well.
The team at SilverTribe.com and Anderson himself claim they comprise nothing when it comes to quality. Their new selection is simply a way of adhering to their customer's needs, which Anderson states they put above all else. The company owes their success to the loyal fan base and the new page is their way of thanking their guests for that loyalty.