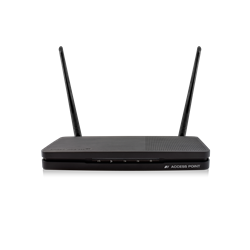 Ontario, CA (PRWEB) August 18, 2016
Amped Wireless, the leading manufacturer of high power, long range wireless solutions for the home and office, announces the availability of its first MU-MIMO access point, the ARTEMIS-AP. The ARTEMIS-AP instantly adds ultra-fast AC1300 Wi-Fi with extreme coverage for any existing network in a home or office. It features true plug-and-play installation and upgrades Wi-Fi performance with extreme range and unmatched speeds for all connecting devices.
Specially designed for multi-device households, the ARTEMIS-AP is built with a powerful Quad-Core Processor, 8 high power amplifiers, and 2 high gain antennas. Ultra-fast AC1300 Wi-Fi technology provides up to 399Mbps 2.4GHz speeds and up to 866Mbps 5GHz speeds, making lag and buffering things of the past. The ARTEMIS-AP also features cutting edge MU-MIMO technology that enables multiple devices to receive data at once, granting uninterrupted streaming for all.
The ARTEMIS-AP instantly adds ultimate Wi-Fi performance and coverage to any existing network by attaching to a router or network switch and blanketing a home or office with ultra-fast connection speeds. In addition to improved performance, users can create up to 8 networks for guests and restrict access to specific users for enhanced security. The ARTEMIS-AP is built with a 4-port Gigabit switch for connecting additional wired devices to the high power network. This includes devices like printers, smart TVs, gaming consoles and more. And, users can attach a USB drive to the USB 3.0 port for instant and fast file sharing throughout the entire network.
"Now that most homes have so many devices connecting to Wi-Fi, consumers need to upgrade their networks if they want to avoid frustrations with lost internet connections and seemingly slow speeds," said Lacey Limbrick, Brand & Marketing Manager at Amped Wireless. "The ARTEMIS-AP is an easy, plug-and-play way to upgrade your network to the latest Wi-Fi speeds and technology to support the increasing bandwidth demands of multi device households and businesses. The ARTEMIS-AP is also great for those homes that have modem/routers provided by their ISPs that are bogged down by outdated, slow, Wi-Fi technology."
The ARTEMIS-AP is available for $129.99. For more information and to purchase, visit: http://www.ampedwireless.com/products/apa1300m.html
About Amped Wireless
Amped Wireless is an award-winning provider of long-range, wireless consumer and business communication products for the home and office. Ranked 16th in the 2013 Inc. 500 and 1st in the Computer Hardware Industry, Amped Wireless' mission is to develop the highest quality, long-range wireless products through experience, passion, innovation and advanced technology that exceed customers' needs and expectations. For more information on Amped Wireless, The Leader in High Power Wireless Solutions™, please visit the Amped Wireless website at http://www.ampedwireless.com