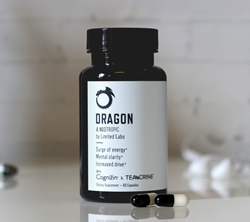 New York, NY (PRWEB) August 17, 2016
Getting ahead at work or giving all your attention to studying takes brain power. Limited Labs has released their new nootropic, Dragon with Cognizin® Citicoline to help.
Dragon is formulated in limited batches and provides a surge of energy and clarity.* It is anchored by a 250mg dose of Cognizin®, along with other ingredients to help transform your conscience and focus the mind.*
Cognizin® is a branded form of citicoline, an essential substance for brain health. Citicoline works to enhance communication between neurons, maintain normal levels of acetylcholine, protect neural structures, and enhance health brain activity and energy.*
Citicoline is a compound that promotes the production of phosphatidylcholine (phospholipids), important for brain function. Phospholipids make up approximately 30% of brain tissue, aid neural communication and provide essential protection for neurons. Clinical research has shown that citicoline has multiple applications and is able to improve various aspects of the brain's physiological activity.*
For more about Dragon by Limited Labs, visit http://www.ltdlabs.com/shop/dragon/.
About Limited Labs
Limited Labs set out to create great products and integrate innovative technologies into a lifestyle that continuously pushed the envelope of human biological limitations. After a decade of experiences, research, and experimentation in the realm of dietary supplements and their effects on the human body, we have come to the conclusion that we must utilize this cumulative skill in enhancing as many lives as possible. In a holistic approach to help manipulate, maintain, and enhance the human experience - it is our goal to create products and regimens that create profound and life changing impacts on our customer's lives.
For more information, visit http://ltdlabs.com/.
About Cognizin® Citicoline
Cognizin® Citicoline, manufactured by Kyowa Hakko Bio Co., Ltd., is a clinically studied and patented form of citicoline, a natural substance found in every cell of the body and especially vital to brain health.* Citicoline is a potent brain-health nutrient. A proprietary form of citicoline, Cognizin® has been clinically studied to support mental energy, focus, attention and recall. Cognizin® is manufactured through a patented fermentation process to yield high quality and high purity. Cognizin® is also highly stable, GRAS, ultra-pure and allergen-free. For more information on Cognizin, visit http://www.cognizin.com.
About Kyowa Hakko USA
Kyowa Hakko USA is the North & South American office for Kyowa Hakko Bio Co. Ltd., an international health ingredients manufacturer and world leader in the development, manufacturing and marketing of pharmaceuticals, nutraceuticals and food products. Kyowa is the maker of branded ingredients including Cognizin® Citicoline, Lumistor® L-Hydroxyproline, Pantesin® Pantethine, Setria® Glutathione, as well as Sustamine® L-Alanyl-L-Glutamine. For more information, visit http://www.kyowa-usa.com.
*These statements have not been evaluated by the Food and Drug Administration. This product is not intended to diagnose, treat, cure, or prevent any disease.