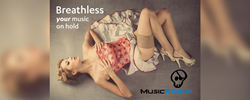 Sacramento, CA (PRWEB) August 17, 2016
New Music Service Takes Your On-Hold Experience to a Whole New Level
"Your call is very important to us." It's the familiar robotic phrase heard just before being placed on hold followed by music that no one would even stream to their iPhone, let alone use to torture their best friends. If not music, users are subjected to a sales pitch that plays over and over again, and again.
Most consumers of goods and services will spend "1.2 percent of their lifetimes on hold". It's inevitable. But thanks to MusicRogue, it doesn't have to be excruciating. MusicRogue is a new app that allows users to block the hold signal and play music from their own playlists on their smartphones, or stream music live from third party providers such as Spotify.
Rather than listening to potentially 15 minutes or more of distorted hold music and advertising, users can choose their own high-quality tunes or even silence, if preferred. Users will not lose their spot in line because of a dropped call. MusicRogue's smart algorithm will return users to their call the second a customer service representative is ready to assist.
Previous attempts at such an app focused on blending the phone stream with a user's playlist, resulting in a distorted, low quality listening experience that was nothing short of a vicious catfight. MusicRogue is the first solution that truly allows users to listen to their own music with the fidelity that the device has to offer.
In a highly technological world, most smartphones have good digital fidelity that will improve with each new release. The on hold experience can pass quickly and more pleasantly with music from user's favorite artist in high def. If preferred, the silent option can work while a visual indicator pops up on the screen showing a connection status. And with MusicRoque users enjoy no ads, no in-app purchases, and access to Spotify at no additional charge.
With thousands of customers calling in everyday with a myriad of problems and complaints, on hold isn't going away. But don't let bad music and robotic sales pitches sour the mood before anyone ever picks up the phone. Users own tunes played by their favorite artists with the digital quality they love can remove the stress leading to a faster, more pleasant resolution to customer service problems.
For just two bucks download a viable solution to inevitable on hold woes. MusicRogue helps users enjoy the wait time the way they choose.
For more information contact: info(at)musicrogue(dot)com