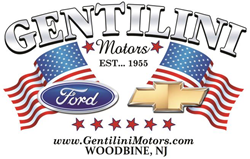 Through equipment and cash donations, we are lending a helping hand to Sea Isle City and Dennis Township Recreation so they can achieve their goals.
Woodbine, NJ (PRWEB) August 17, 2016
In the spirit of community collaboration and teamwork taught through youth sports, GENTILINI CHEVROLET is supporting Sea Isle City and Dennis Township Recreation through Chevrolet Youth Soccer Program. At GENTILINI CHEVROLET, they know all about commitment and hard work. It's what they do and what they've done since 1955. That's why they're proud to sponsor their community and the dreams of athletes everywhere... every day.
Chevrolet Youth Soccer is a grassroots initiative that establishes a positive relationship between local dealers and the communities they serve. GENTILINI CHEVROLET is sponsoring Sea Isle City and Dennis Township Recreation as a part of Chevrolet's nation-wide commitment to support youth sports, one community at a time.
This sponsorship will include both monetary and equipment donations over the course of the 2016 season. The equipment donated by GENTILINI CHEVROLET may include: soccer balls, ball bags, ball pumps, field cones, coach's kits, corner flags, scrimmage vests, mini pop-up goals, and first aid kits. Also, thanks to GENTILINI CHEVROLET and other participating area Chevrolet dealers, youth soccer participants will have a chance to attend a youth clinic with local professional soccer coaches.
"We are looking forward to a great season with Sea Isle City and Dennis Township Recreation that will be filled with exciting games and an enhanced experience for the teams. We know the years of practice, dedication, and hard work it takes to become the best at what you do. Only relentless hours of work on and off the field, practicing until perfect will get you to your dream." Paul Gentilini, of GENTILINI CHEVROLET, said.
Gentilini continued, "Through equipment and cash donations, we are lending a helping hand to Sea Isle City and Dennis Township Recreation so they can achieve their goals. Chevrolet Youth Soccer is just one example of how committed our dealership is to supporting the youth and families in our community.''"
The 2016 program will provide assistance to approximately 225 organizations in the Northeastern region and Chevrolet dealers will contribute over $340,000 in monetary and equipment donations.
About Gentilini Chevrolet
The Gentilini Motors organization located in Woodbine, Cape May County, New Jersey has been serving the Southern New Jersey area since 1955. Family owned and operated, our South Jersey new and used car dealerships are legendary for customer service, winning The Ford President's Award for Superior Customer Service for 22 years making us one of the Top Ten Ford Dealers in the nation for customer service.
More recently Gentilini has expanded their horizons with the acquisition of a NJ Chevrolet dealership and successful implementation of their unique approach of family style customer service. They have become quite well known in the Dealership space for consistently providing technology leadership and unique approaches to enhance their customer satisfaction-centric philosophy. At their dealership, they have devoted themselves to helping and serving their customers and community to the best of their ability. They believe the vehicles they offer are the highest quality and ideal for the life needs of their customers, stop by today to see why.