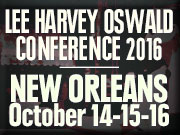 Oswald was a 'patsy,' just as he said.
Walterville, OR (PRWEB) August 17, 2016
Leading Experts on the JFK Assassination Will Gather in New Orleans Oct. 14-16th for Annual Conference; This year's focus: "Oswald: The Patsy"
Produced by TrineDay, Conscious Community Events, and the JFK Historical Group.
On October 14-16th, 2016, nationally known researchers and scholars will gather in New Orleans at the Crowne Plaza Hotel-Airport, 2829 Williams Blvd., Kenner, Louisiana for "Oswald: The Patsy." The conference will explore Lee Harvey Oswald's role in the long-running national nightmare.
"Oswald was a 'patsy,' just as he said," according to event organizer Kris Millegan. "We will be looking at Oswald's life in New Orleans, explore other topics such as David Ferrie, Dr. Mary Sherman, and the Garrison trial, plus, testimony from military medical personnel, who were present at JFK's autopsy, showing the impossibility of Oswald's alleged actions."
On Sat, Oct 15th, 8 p.m. there will be a Birthday Party for Lee Harvey Oswald, at The Kamp Restaurant, 2317 Hickory Ave, Harahan, LA 70124 (504) 737-5267 with Coast to Coast AM's George Noory and Oswald's girlfriend, Judyth Vary Baker.
Seating is limited at all events, so early registration is encouraged.
Contact Kris Millegan (trineday(at)icloud(dot)com), David Denton (dentond(at)iecc(dot)edu), or Lorien Fenton (lorienf(at)comcast(dot)net) for more information or go to http://oswaldconference.com
For more information, contact:
Oregon: Julia Cox (541)285-0696 or julia(at)trineday(dot)net
New Orleans: Cheron Brylski/Jonathan Barnes (504) 897-6110 or cbrylski(at)aol(dot)com
Confirmed Speakers:
Edward Haslam- Author and Investigator of JFK's Assassination.
Judyth Vary Baker- Author and Lee Harvey Oswald's girlfriend.
Edgar F. Tatro- Consultant to Oliver Stone's film, JFK.
Ole Dammegård- Author, Speaker, Former Journalist and Investigator of JFK's Assassination.
Russ Baker- Founder and Editor-in-Chief of WhoWhatWhy.org.
St. John Hunt- Author and Son of infamous CIA Agent E. Howard Hunt.
Todd C. Elliott- Talk Radio host and Author.
R.A. Kris Millegan- Publisher, Writer and Musician.
Len Colodny- Political Analyst, Investigator and Author.
Sean Stone- Son of filmmaker Oliver Stone, Radio host and Author.
S.K. Bain- Author and former Art Director for The Weekly Standard and Oxford American magazine.
George Noory- host of the nationally syndicated Coast to Coast AM.
William Matson Law- Author and Researcher of JFK's Assassination.
Hugh Clark- Member of JFK's Honor Guard.
James Jenkins- Naval medical technician who assisted in the autopsy of JFK.
Dennis David- Chief of the Day at Bethesda Naval Hospital, and directed the off-loading of President Kennedy's body.
Detailed Speaker Bios at: http://media.trineday.com/index.php/upcoming-events/oswald-convention-2016/item/85-speaker-bios