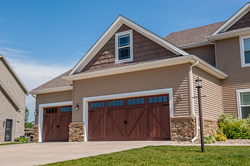 Arthur, IL (PRWEB) August 17, 2016
C.H.I. Overhead Doors recently released the new Accents Woodtones Flush Overlay Model 5217. The newest addition to the Accents Woodtones family, Flush Overlay Model 5217 is a flush steel door, designed and manufactured to realistically portray carriage house style. This door showcases the versatility of Accents Woodtones with sixty design options.
C.H.I. Accents Woodtones garage doors are the highest quality, most realistic woodtone doors available. Panel options include Stamped Carriage House, Raised Panel, Planks, and now Flush Overlay.
Visit http://www.chiohd.com/accents to see the newest release from C.H.I. Overhead Doors.
About C.H.I. Overhead Doors
C.H.I. Overhead Doors is a leading manufacturer of high-quality residential and commercial sectional and rolling steel doors. Started in 1981, C.H.I. has risen to become an industry leader in innovation, quality, and customer service. Hand-made craftsmanship and computer-aided precision join together to make C.H.I. Overhead Doors "The Door to Quality."