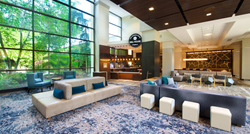 Our stylish and comfortable guest rooms accompanying a fully refreshed and modern lobby, restaurant and fitness center give our guests the top-notch amenities that they have come to expect from the Marriott brand
Pittsburgh, PA (PRWEB) August 17, 2016
The Pittsburgh Airport Marriott, managed by Crescent Hotels & Resorts, has undergone a $4.5 million renovation, transforming the hotel into an upscale and dynamic destination to enhance the comfort and lifestyle of business and leisure travelers alike. The hotel extends flexible spaces and amenities to guests, facilitating the maintenance of a healthy balance and routine while traveling.
Lobby renovations are incorporated within the Marriott Greatroom concept; a global brand design and identity program for Marriott hotels worldwide. The Greatroom lobby offers an open and flexible lobby space for guests to use for business, leisure or time to themselves. Features boast a stylish, modern, comfortable and welcoming atmosphere with all day menus for light bites, shareables or meals with full access to technology.
In Pittsburgh, the Marriott Greatroom introduces a completely redesigned lobby together with The Runner Stone Mill House, a new restaurant concept featuring a menu that acknowledges Pittsburgh's past and present: the region's widely-recognized mill history and the current farm to table food movement capturing the attention of local restauranteurs.
Additional hotel renovations include new installments of a 1,500 SF fitness center presenting Life Fitness cardio equipment and Imperial Boardroom offering professional accommodations and state-of-the-art technology for additional business opportunities. Existing updates consist of guest bathrooms, Three Rivers Conference Center, Concierge Lounge and pool area.
"We are thrilled to complete this extensive renovation," says General Manager Tom Hardy. "Our stylish and comfortable guest rooms accompanying a fully refreshed and modern lobby, restaurant and fitness center give our guests the top-notch amenities that they have come to expect from the Marriott brand."
The Pittsburgh Airport Marriott is located 5 miles from the Pittsburgh International Airport and 12 miles from downtown Pittsburgh. Over 12,000 SF of flexible event space provides a beautiful setting for corporate and special events. To reserve a room or plan an event, visit http://www.pittsburghairportmarriott.com or call 412.788.8800. Join the social conversation on Facebook (Facebook.com/MarriottPittsburghAirport), Twitter (@marriottpitt) and Instagram (@pghairportmarriott).
About Crescent Hotels & Resorts:
Crescent Hotels & Resorts is a nationally recognized, top-3 operator of hotels and resorts. Crescent currently operates over 100 hotels and resorts in 27 states in the US and 5 provinces in Canada. Crescent is one of the few elite management companies approved to operate upper-upscale and luxury hotels under the brand families of Marriott, Hilton, Starwood, Hyatt and IHG. Crescent also operates a collection of legendary independent hotels and resorts. Crescent's clients are made up of hotel REITs, private equity firms and major developers. For more information, please visit http://www.chrco.com or connect with Crescent on LinkedIn.
About Marriott Hotels: With over 500 hotels and resorts in nearly 50 countries and territories around the world, Marriott Hotels is evolving travel through every aspect of the guest's stay, enabling the next generation to Travel Brilliantly. Boldly transforming itself for mobile and global travelers who blend work and play, Marriott leads the industry with innovations, including the Greatroom Lobby, Future of Meetings, and Mobile Guest Services that elevates style & design and technology. All Marriott hotels participate in the award winning Marriott Rewards frequent travel program that allows members to earn hotel points or airline miles for every dollar spent during each stay. For more information, visit http://www.MarriottHotels.com. To join the ongoing Marriott conversation, like us on Facebook (Facebook.com/Marriott) and follow us on Twitter (Twitter.com/Marriott, @Marriott).