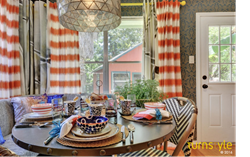 "A home should be the place that most reflects who you are and how you want to feel..."
Austin, Texas (PRWEB) August 22, 2016
HGTV's House Hunters Renovation recently came to Austin, TX, to pair Belgian / American Interior Designer Lieve Saether of Turnstyle Design, with a young couple that just moved to South Austin from Upstate New York. What they got was something much more dynamic than usual!
Because any first home can feel especially daunting, Lieve Saether and her team quickly helped this couple get straight to the fun part, and all that in Technicolor. Known for her ability to push the boundaries of pattern and color, Saether pushes stylistic boundaries effortlessly, readily understanding the homeowner and their needs. Bringing out a client's playful side, her goal is to always make a home feel approachable; one's absolute favorite place to be. And while one might think patterning and brightness can be tricky, Saether navigates these problems with ease, ensuring a globally luxe version of any design combination. Saether says, "A home should be the place that most reflects who you are and how you want to feel. For most of us, that falls around what is spirited, cheerful and unique – and since we at Turnstyle understand a broad range of cultures and styles, we develop very unusual combinations. That's what we bring to the table in a very palatable way."
Since these homeowners were drawn to brightness and the energy that strong colors create, they felt that they were in excellent hands with the Turnstyle Design team. A double height ceiling living room was given instant intimacy and dynamism with bold color choices and well-edited furniture pieces. The fully remodeled kitchen was reconfigured using a range of unexpected materials to create better flow and inclusiveness with the rest of the house. A lovely window-framed eat-in area now feels more integrated, making morning coffees feel like the perfect time to linger.
Most homes can feel predictable, but with this renovation, everywhere you look you're taken somewhere unanticipated; the contrast and play of materials is so distinctive. The painterly, geometric kitchen backsplash mixed with the deep, jewel-tone paisley wallpaper at the dine-in area, or the hand painted and pattern-mixed window treatments give this home its own personality entirely.
"Allow the right person to push you outside of your comfort zone and into your unique personality. That's when you know you've picked the right designer. That's when you know your house can become a home," says Saether.
See the latest episode of HGTV's House Hunters Renovation, "A Reno that Ruffles Feathers"* (Season 9, Episode 8) on August 13, 2016. Re-airs on Saturday, September 17, 2016 at 11am CST *(link of episode will be available online, post following all television air dates).
About Turnstyle Design
Lieve Saether is Turnstyle Design's founder and lead creative. As a design firm, they offer full interior design services, implementing each project distinctively. Far from formulaic, their approach is to twist and turn things around, to use objects and areas in unique ways, and changing the way we experience the things around us. Turnstyle's goal is to help clients push outside of their norm to achieve the ultimate in functionality and aesthetics, while making a home specifically reflective of its family and what makes them unique.