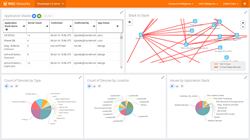 With CloudScape 2.0, we look forward to building upon previous awards and accolades received from companies like Gartner and Channel Partners
Asheville, NC (PRWEB) August 17, 2016
RISC Networks, a data analytics company based in Asheville, NC, has announced the launch of CloudScape 2.0 effective immediately. The CloudScape platform is the leading product worldwide for IT professionals and system integrators to properly prepare for cloud, data center and infrastructure projects.
RISC Networks' CloudScape platform has several new features including an updated interface and a modified customer friendly licensing model. "With CloudScape 2.0, we look forward to building upon previous awards and accolades received from companies like Gartner and Channel Partners. Our goal is to provide a platform that not only makes organizing your data more efficient, but to also provide a quick and accurate application dependency snapshot of large data centers through improved visualization before moving to the cloud" said RISC Networks chief executive officer, Jeremy Littlejohn.
Additional CloudScape features include an automated performance and migration assessment, server network dependency visualization, network readiness validation and cloud performance benchmarking. CloudScape 2.0 also provides the ability to compare multiple cloud providers cost modeling and allow IT professionals to optimize their investment in the cloud before actually moving applications.
RISC Networks' cloud providers include AWS, Microsoft, and Google, and they continue to work together with large Fortune 500 companies and their strong system integrators to accelerate their movement into the cloud. Many CloudScape customers had been unsure of where to start the process of cloud adoption, but with the newest addition to the CloudScape platform, they expect data migration to the cloud to be even faster and more scalable.
RISC Networks' vision is to unlock business potential by delivering more meaningful data analysis, information that helps guide IT leaders in solving their problems and software solutions that help IT teams prepare for change and to take immediate action. RISC Networks is the industry's leader in cloud, data center and network operations analytics with more than 9,500 analytics engagements and over 100 industry-leading partners. RISC Networks is a privately held company that was founded in 2007. The Company is headquartered in Asheville, NC.