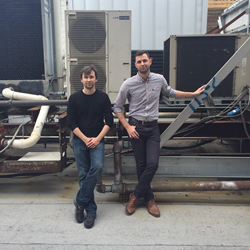 Video is the most valuable real estate on a publisher's website and too many of these impressions are filled with a large waterfall overhead
New York, New York (PRWEB) August 18, 2016
GetIntent, a global provider of programmatic advertising software solutions, announced today that PreVid, a proprietary fill-rate optimization algorithm-as-a-service, has completed closed beta testing and will soon be available to the public. Designed to provide outcome probability events for each impression, the video-first, data-driven technology has been successful in achieving more than a 10x increase in fill rate.
"Video is the most valuable real estate on a publisher's website and too many of these impressions are filled with a large waterfall overhead," Vladimir Klimontovich, Co-Founder and CTO of GetIntent. "Fill rate is the most crucial KPI in online video advertising, and we were excited to use our predictive intelligence to shorten the chain of demand sources and create a superior method of calculating the probability selling/filling each impression."
CenterPoint Media, one of the fastest growing advertising technology companies in New York, participated in the beta testing.
"One great aspect of digital advertising is that true innovation in the space can always be quantified," said Paul Roberts, CEO of CenterPoint Media. "Since we began using PreVid, our fill rate has increased more than 300%. GetIntent has set the stage to solve many more problems like this for the industry using technology we have yet to see in the space."
PreVid works as a real-time engine tailored to solve waterfall problems for publishers and networks. Powered by cutting edge machine learning algorithms that calculates the probability of being filled by each demand channel per each impression. It utilizes a various big data mining techniques in order to leverage up to 60 days of historical data. In order to pair impression opportunities with demand partners, PreVid calculates the probability of being filled at specific price. Publishers can now determine an optimal sale price for each impression in order to yield optimal revenue and significantly decrease the waterfall impact.
"PreVid helps to solve the waterfall problem that results in a massive number of ad calls clogging the system," said George Levin, Co-Founder and CEO of GetIntent. "Whatever the goal of a campaign -- be it probability of clicks or probability of sale – PreVid is able to guide the process in a streamlined manner that spares servers needless activity and our clients needless cost. This elegant solution allows for sellers to connect with buyers at dynamic points in real time, creating a win-win solution for all involved."
PreVid is build on top of GetIntent's Prediction Engine, which is a part of RTBSuite, a set of frameworks that allows users to build a various set of programmatic platforms in matter of months. Prediction Engine is a generic machine learning framework that allows to predict probability of any event (such as click or conversion) and optimize revenue goals.
About GetIntent
GetIntent is an independent global ad tech company with offices in NYC and Moscow. Their suite of proprietary software solutions, all developed internally, provides customers with unsurpassed flexibility, control and transparency, significantly lowering cost and reducing time-to-market. Founded in 2013 by Russian mathematicians George Levin and Vladimir Klimontovich, GetIntent provides transparent and convenient access to RTB infrastructure. In autumn of 2013, Getlntent attracted its first seed investment; $400,000 from venture fund AltaIR Capital. In July of 2014 the company expanded internationally and set up their office in New York. In September of 2015, GetIntent secured $1m in the second seed round of financing led by Buran Venture Capital and co-investor Thomas Falk.
Media Contact:
Pete Holmberg / Zach Williams
Code Morris
pete.holmberg(at)codemorris(dot)com / zach.williams(at)codemorris(dot)com
917-501-7434