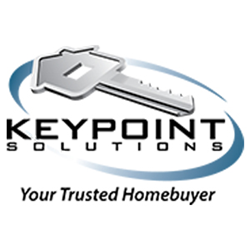 Indianapolis, Indiana (PRWEB) August 18, 2016
Local real estate investment company Keypoint Solutions has become a life saver in the Indiana housing market. Based out of Indianapolis, Keypoint Solutions has purchased 157 homes with 55 of those homes being in Indiana this year alone.
Keypoint has become well known through the Indianapolis and surrounding area for offering sellers a quick, easy, and all cash offer on their homes. While many local residents have struggled with selling their home due to the fact that they have no equity and no cash to bring to the table, Keypoint Solutions offers a unique program designed to still get the deal done for sellers in difficult circumstances. With an A+ rating from the Better Business Bureau (BBB), Keypoint Solutions has countless satisfied sellers throughout the state of Indiana. Much of their local recognition is derived from word of mouth however home sellers are able to find out details of their business at the website fairindycashoffer.com.
In addition to lack of equity or cash, Keypoint Solutions has quickly become known as the go to local resource for those facing foreclosure or bankruptcy. They also regularly purchase estate sales, homes from those going through divorce, or even properties needing to evict bad tenants. Purchasing homes fast with no contingencies puts Keypoint Solutions in a unique position to assist sellers with closing on their home in as little as 48 hours, or at any time within the seller's schedule.
Keypoint Solutions' representative Jason Murphy said, "Indiana has proven one of the best places for our business in buying homes and closing quickly. Our local Indiana office has gained a reputation for providing real home selling solutions to homeowners in the area."
Keypoint Solutions also helps sellers avoid realtor fees and other costs associated with selling a home. At the end of the day, after not having to pay the commission of two different brokers, inspection fees, appraisal fees, listing fees, and repairs, most sellers end up with the same amount of cash in pocket as if they were to sell through a traditional real estate agent. The largest difference is the seller can now avoid the logistical headaches of selling their home when using a realtor as a middle man. Sellers who are interested in learning more about opportunities available through Keypoint Solutions will find them at the website http://fairindycashoffer.com.