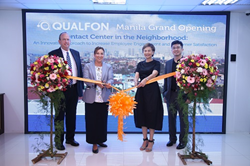 This is something that hasn't been done before. . . We take note of this very innovative approach to put contact centers in the neighborhood.
Manila, Philippines (PRWEB) August 25, 2016
Qualfon, a mission-driven business process outsourcing (BPO) company and global provider of contact center services, received a vote of thanks and congratulatory applause from the Vice Mayor of the City of Manila Philippines, the Deputy Executive Director of the Philippine Department of Information and Communications Technology (ICT), and also from the Corporate Secretary of the Contact Center Association of the Philippines (CCAP), all of whom were in attendance at the Qualfon Manila grand opening ceremony held on August 4. The event celebrated Qualfon's neighborhood contact center strategy, an approach strategically designed to put jobs in the residential district of Paco saving employees 2-3 hours per day in commute time and enhancing engagement and customer satisfaction.
Watch the grand opening ceremony video
"This is something that hasn't been done before," Monchito Ibrahim, Deputy Executive Director of the Department of ICT's eInnovation Group. "Part of the responsibility of the ICT is to focus on the ecosystem. We work to develop the right ecosystem for this industry to grow, and we take note of this very innovative approach to put contact centers in the neighborhood."
Industry leaders thanked Qualfon CEO Mike Marrow for driving progressive business ideas that simultaneously work to enhance the lives of the people of Manila. CCAP Corporate Secretary Jojo Uligan commented from the podium, "There is something different about Qualfon that I will always remember—their genuine concern for employees and their welfare, as well as their genuine concern about the community and being part of the community with all of their initiatives to help the country and the Filipino people."
Qualfon's neighborhood strategy is rooted in the company mission: Be the best BPO. Make people's lives better. As Marrow explained, "The objective of being the best BPO is to do a great job for your clients and make their customers happy, so they reward you with more business. Qualfon takes this opportunity and, in turn, makes a positive impact on employees."
Tucked into the 4th floor of the Robinsons Otis Shopping Center in an area known as Manila's University Belt, Qualfon's neighborhood center is conveniently located where people live and study. "Qualfon's new center is very different from your typical contact center because it's in a different place. As a result, our agents are less stressed, more engaged, and make customers happier," added Marrow.
"It's an honor to be part of this very momentous event which will surely provide additional employment opportunities to our constituents," said Dr. Honey Lacuna, Vice Mayor of the City of Manila. "This kind of business endeavor will have a great impact on the economic state of the city and to the country as well."
Operations are already underway at the 35,000 square-foot contact center, where employees currently provide customer support services in the communications industry. The center can employ 1,200 people when at capacity, and Qualfon is currently hiring in the areas of customer care, technical support, sales, and customer retention programs. For more information visit http://www.qualfon.com/careers or email JoinUsManila(at)Qualfon(dot)com.
"You can see all those beautiful buildings out there in the distance," Marrow said as he pointed to the skyline of Makati's Central Business District, Bonifacio Global City, Ortigas and beyond to Quezon City—all of which are located miles away from Qualfon's new center. "Those beautiful buildings are full of contact centers, but where are the beautiful people? They are here. They live in the Paco neighborhood right outside our window."
ABOUT QUALFON
Qualfon is a mission-driven business process outsourcing (BPO) company and a global provider of contact center services and back-office processing. With experienced BPO leadership and a strong track record of business growth dating back to our founding in 1995, Qualfon helps companies reduce costs and deliver superior customer experiences. Today, we have approximately 12,000 employees serving international brands across many industries, and our intelligent outsourcing locations span the United States, the Philippines, Guyana S.A., and Mexico. Qualfon's mission to "Be the Best BPO, Make People's Lives Better" means we invest in our people and, in return, they take better care of you and your customers. Qualfon's employee retention regularly exceeds the industry average, which creates a people-driven value chain: Our employees stay longer, providing you a higher quality service at a lower price.
Related Press Releases
Contact Center in the Neighborhood: Qualfon Manila Grand Opening Celebrates Innovative Approach to Increase Employee Engagement and Customer Satisfaction