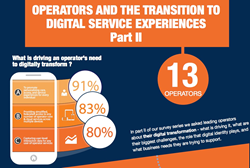 These findings highlight the need for operators to consider the lifecycle of every individual who consumes a service in order to provide a competitive user experience
Toronto, Ontario (PRWEB) August 17, 2016
UXP Systems, the leader in User Lifecycle Management, announced today the results of Part 2 of a European Operator Survey that highlights business drivers, challenges and business needs for operators transitioning to succeed in an increasingly digital world.
In part 2 of a comprehensive digital transformation survey performed at the CEM in Telecom event in Prague last month, UXP Systems asked operators to identify the drivers behind their transformation projects, to list their biggest challenges, comment on the role of digital identity and highlight the business needs they hope to deliver through these transformations.
"For this survey we asked Customer Experience Management experts from some of the largest Telecom operators in Europe to discuss these issues as a group and share their observations in areas within the digital transformation domain," said Jim MacDonald, Chief Marketing Officer at UXP Systems. "One of the most common themes to emerge from the findings was the importance of placing a robust digital identity offering at the centre of their transformation plans. In the digital world, having a relationship with every household and business user is not optional."
As an example, survey participants were asked about the role of Digital Identity in Operator Transformation projects. The top 3 responses were:
1. Our company has identified the need to consider digital identity as an important / strategic operator service.
2. A platform that can unify disparate operator services around a single user's Digital ID would be a competitive advantage for us.
3. Identity and Access Management is no longer enough; we need to enable a comprehensive digital identity service that supports group management, delegation, revocation, roles & sharing, entitlements and data capture.
In terms of the needs of their business, the operators mentioned the challenges they faced with their existing back-end systems. 82.5% of survey respondents agreed with the statement: "If we could build the infrastructure we need to support digital services today and in the future without having to change or modify our B/OSS systems, that would be extremely valuable."
"There is no question that operators are striving to put themselves at the centre of their user's digital life," said Mark Mortensen, Research Director and Practice Leader at Analysys Mason. "These findings highlight the need for operators to consider the lifecycle of every individual who consumes a service in order to provide a competitive user experience, and that managing every user's lifecycle will be critical for them as they plan for the digital future."
For more information on the survey findings, download the associated infographics: part 1, part 2.
UXP Systems will be participating at IBC 2016 in Amsterdam, Sept 8-14/16 and can be found in Hall 2, at the Ontario, Canada Pavilion in Stand 2.A41. Click here to book a meeting to learn more about UXP Systems' MINT User Lifecycle Management Platform.
About UXP Systems
UXP Systems is the industry leader in User Lifecycle Management (ULM). Their MINT ULM Platform powers digital identity as a strategic operator service as they transform to a seamless, digital world of entertainment, communications, and connected life services. User Lifecycle Management technology is the foundation of Digital Transformation for operators like Vodafone, Cable & Wireless, Rogers Communications, TELUS and CenturyLink, using digital identity as a focal point for managing the digital user. ULM processes enable entitlements, group management, delegation, revocation, roles and sharing, user insight, privacy and more, all as part of an end to end business process framework. UXP Systems' MINT Platform innovates above existing legacy systems to transform the user experience, getting operators to deliver digital services faster and more economically.
For more information, please visit http://www.uxpsystems.com/.
UXP Systems Media Contact
Jim MacDonald
Chief Marketing Officer
T: +1 416-358-1540