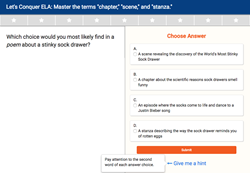 Shmoop helped build his confidence and gave him some of the oomph he needed to keep trying.
Mountain View, California (PRWEB) August 18, 2016
Math drills are a dime a dozen. But language arts drills? Not so much. Enter: Shmoop. Shmoop (http://www.shmoop.com), a digital publisher known for its award-winning test prep and certified online courses, has released Let's Conquer ELA, an adaptive, mastery-based learning tool.
This all-purpose Response to Intervention product allows teachers to assess students' mastery of third- through eighth-grade ELA concepts, from spelling to parts of speech to textual analysis. Wondering how to form and use prepositional phrases? Curious about the difference between figurative and connotative meanings? Don't know what the heck any of these words mean? Whatever the difficulty may be, Shmoop is armed with an artillery of drills to conquer it, and the drills are adapted for the skill sets of each individual student.
The product helps identify students' skills and competencies through adaptive benchmark diagnostics that adjust to their level as they progress through questions. Then, it provides targeted and engaging intervention to support growth and mastery. Drills are nearly never-ending, and provide hints and detailed, engaging answer explanations that get to the heart of each question. The whole time, there's detailed reporting for teachers and administrators so they can clearly see how students have improved with every passing month. Or every passing second, for the obsessive progress refreshers out there.
Let's Conquer ELA rounds out Shmoop's Response to Intervention product suite, which began with Let's Conquer Math. Educator and mother Sheree Crites of Arch Ford Education Service Cooperative describes her favorite Shmoop experience: "Sitting here, at the computer, face-to-face with my son and seeing the pride he feels when he 'can do math!' Shmoop helped build his confidence and gave him some of the oomph he needed to keep trying." Now, thanks to Let's Conquer ELA, students can have the same transformative experience with language arts.
For perplexed students and educators alike, Shmoop presents a painless cure for wrinkled brows and foggy minds. Individual students, educators, and parents can subscribe to Shmoop, and schools and districts can get bulk discounts by emailing sales(at)shmoop(dot)com.
About Shmoop
Shmoop offers hundreds of thousands of pages of original content. Their Online Courses, Test Prep, Teaching Guides, Learning Guides, and interactive Study Tools are written by teachers and experts and balance a teen-friendly, approachable style with academically rigorous concepts. Shmoop sees 15 million unique visitors a month across desktop and mobile. The company has won numerous awards from EdTech Digest, Tech & Learning, and the Association of Educational Publishers. Launched in 2008, Shmoop makes the magic happen from a labradoodle-patrolled office in Mountain View, California.