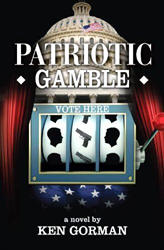 Delivers 'West Wing' style action, full of breathless updates and sharp twists. - Kirkus Reviews
(PRWEB) August 19, 2016
"If Ken Gorman were to write a novel based on the installation of a washing machine, I would probably buy it (the book, that is). Take 'Patriotic Gamble,' Mr. Gorman's fourth novel, for example: You suspect that the plot is going to conclude on an upbeat note, but you can't quite figure out how it is going to get there until it does." – Sam Heffner, 5-Star Amazon Review
"Patriotic Gamble" is one heck of a political thriller. It describes a presidential election gone haywire. Despite winning the popular vote in his reelection bid, the president's certification in the Electoral College is uncertain. Intense deal making, secrets, and violence litter the political landscape, and chaos engulfs the House of Representatives.
"Delivers 'West Wing' style action, full of breathless updates and sharp twists." – Kirkus Reviews
A rich power broker orchestrated the constitutional crisis, pushing the president's chief of staff to make decisions that can save the country and his marriage. What will happen on inauguration day?
"The dialogue in this book is very realistic. During several scenes I felt as if I was sitting in on a meeting between the president, his chief of staff, and an adviser. 'Patriotic Gamble' is an entertaining and fascinating story about the behind-the-scenes activity of a presidential campaign ... I will never look at a presidential campaign the same way again." – Anne B. for Readers Favorite
"Fast-paced action, with a lot of insider views of Washington politics and intrigue. A real page-turner that I could not put down." – John Fallon, 5-Star Amazon Review
Watch the video at: https://www.youtube.com/watch?v=0H8m_ztLY6w&feature=youtu.be
About the Author: Ken Gorman retired as CEO from an insurance company in New York. He was active in local New Jersey politics, has a library of president biographies, and is a political junkie of the national scene. He currently lives in Ponte Vedra Beach, Florida, with his wife, Betty. Besides golf, he enjoys spending time with his nine grandchildren.
The compelling book PATRIOTIC GAMBLE (ISBN: 978-0-98529-421-2) is now available for $14.95 (Kindle, $2.99) and can be ordered through the author's website:
http://www.kengormanauthor.com or at Amazon.com or Barnesandnoble.com.