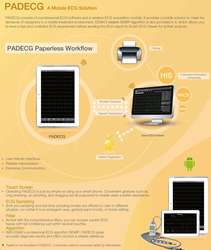 This new mobile and tablet EKG system will turn any iPad or tablet into an accurate and reliable medical diagnostic tool that can be used anytime, anywhere.
Ventura, California (PRWEB) August 17, 2016
The healthcare industry is seeing a substantial leap in EKG technology development with the release of the iOS targeted ECG solution called the CardioTech GT-500PAD. The product features wireless capabilities and is compatible with iPad and Android tablets to allow complete 12 Lead EKG sampling and diagnosis without the need for a traditional dedicated box EKG. The product is available exclusively from CardiacDirect, a California-based Global leader in medical equipment distribution.
The CardioTech GT-500PAD consists of an ECG acquisition module and software that can be downloaded for free from the various App stores. The utility is designed to be user friendly, allowing anyone to check for common disturbances in heart rhythms. The easy to use interface allows simple finger operations such as long press, pinching and dragging and shows results with just a few touches. A reliable algorithm then produces a quick assessment, with the option to submit the report to a data management system for further annotations, archiving and/or upload to EMR / PACS systems.
The CardioTech GT-500PAD is proving to be a miracle device when it comes to healthcare applications that take away the need for costly monitoring and consultation. A primary care Physician can easily add this full featured 12 Lead EKG to their patient offerings without a dedicated room or excessive expense.
The CardioTech GT-500PAD unit is approved by the FDA and is designed to product accurate readings. It comprises a range of filters and the SEMIP algorithm to acquire precise ECG traces which can then be printed out or archived. GT-500PAD is designed for use on iPad and iPad Mini running iOS 7.0 and above.
For medical professionals, the wireless ECG unit comes with features such as great portability, easy-to-use optimized work flow, automatic measuring and analysis, multi-format reports ready for export and a two-way interaction with a data management system.
With the internet of things (IoT) industry gaining pace with the everyday needs of both patients and the health conscious populace, mobile based products such as the wireless ECG reader will change the way medical check-ups and diagnoses are carried out and made available. A great scope for such devices lies in offering basic healthcare services to people in developing countries that lack access to formal medical infrastructure.